As a board member, it is likely that you already recognize the importance of meeting minutes. After all, the minutes highlight all the crucial points discussed, motions proposed, and tasks that need to be undertaken following a board meeting.
In essence, meeting minutes help you keep a comprehensive record of each meeting that you hold.
So, to ensure that you and your board are making the most out of meeting minutes, you need to put extra effort into recording them. Luckily for you, there are board meeting minutes templates that make this task easier!
Why use a meeting minutes template?
But first, let's gain a deeper insight into the use of meeting minutes. What you need to understand is that board meeting minutes are not just a record for personal use — in fact, they come with a plethora of other benefits, such as:
They are a legal record. The content of approved meeting minutes is legally actionable. Minutes can be subpoenaed, which means that board members could be held liable in the case of a lawsuit. Therefore, it's best to treat meeting minutes as a valid legal record from the beginning.

They can attract investors. Board meeting minutes can be provided as proof of progress to prospective sponsors and anyone else looking to invest in your venture. If they are recorded effectively, they can be reflective of the efficiency and competence of your board.

They are the blueprint for future decisions. Thinking of your board meeting minutes as a blueprint is useful since that's exactly what they are for future projects. Board meeting minutes can be treated as a reference source that consolidates all the important topics for upcoming projects.
The key takeaway is that board meeting minutes go beyond being mere notes and are essentially an all-purpose reference point for future events concerning the board.
However, all the benefits mentioned above are reliant on one thing: the ability to take coherent, well-organized, and effective meeting minutes. And that's where a meeting minutes template comes in.
Board meeting minutes templates
The best way to ensure that the meeting minutes for all your board meetings are adequate and clear is to follow a standard outline.
Despite the nature of your meeting minutes varying from meeting to meeting, following a set template will help you maintain your records with consistency. Besides, using a template will save you time and effort, and will also allow you to focus primarily on what to record instead of how to record it.
It is important to note that the meeting minute templates vary from one board of directors to the other. However, to showcase what an effective template looks like, we have prepared an example for you.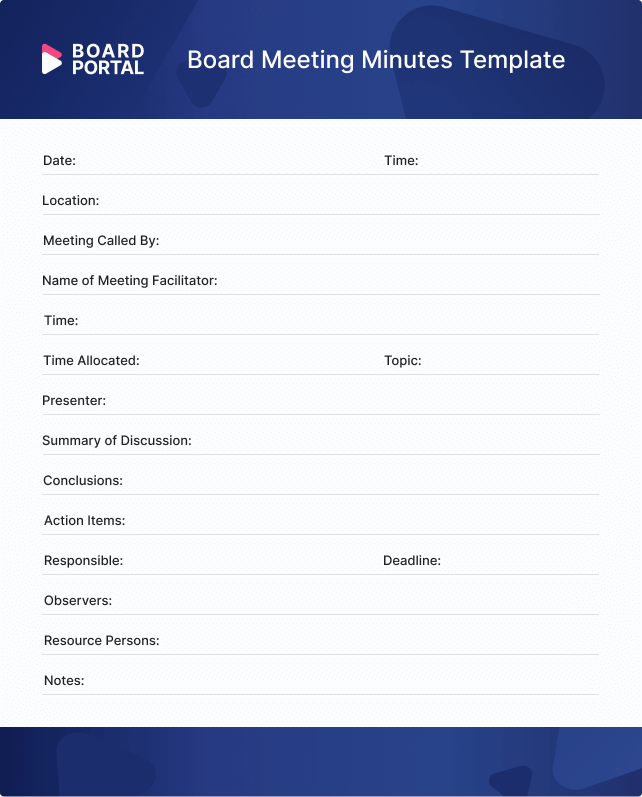 How to enhance the efficiency of the board?
How meeting minutes can help with a board resolution
Keep in mind that the best board meeting minutes templates, like the ones attached above, will include all the decisions of the board members. The more comprehensive the template is in terms of recording information, the more helpful it will be.
That's where online meeting minutes tools come in. They provide you with effective templates that can help you make the most out of your board meetings. An online meeting minutes tool can help you:
Set meeting goals
Create a meeting agenda
Follow a timeline for your decisions
Automate processes and reduce errors
Ensure effective collaboration on talking points and meeting minutes
Assign action items among members
Get comprehensive feedback from members
When these aspects are achieved, it becomes easier for board members to vote and make decisions – both in the present and the future. So, if you're planning to evolve your board's decision-making processes and ensure that each member has their equal share in the productivity of a meeting, an online tool for a meeting minutes template is the optimum solution.
FAQ
How to take minutes at a board meeting?
You can take minutes in handwriting or typing. If your company uses board meeting software, implement a uniform template you can easily fill out in real-time.
What is the best way to record board meeting minutes?
The best approach to minutes recording is to be concise and specific. The ideal format will look like a series of bullet points under each discussion topic. Avoid verbatim quotes and complete documents in the minutes. Word-for-word records might complicate potential litigations, and the reports and other files can be attached to the minutes.
How to write board meeting minutes using a template?
Ensure your template has all the necessary items according to your company's policy. The traditional meeting minutes structure includes:
Location, date, time
Attendance in either hierarchical or alphabetical order
Discussion topic with presenter's name and allocated time
Under each topic, note down the discussion summary, conclusions, action items with assignees and deadlines, and notes.
Can I use a board meeting minutes template?
Yes, using a template can significantly speed up and simplify meeting preparation and allow you to focus on other administrative duties. Ask your board software provider for a template sample and ensure you can modify it to your company's preferences.