How to select board management software?
When selecting a board management software vendor, you should pay attention to whether the offered features comply with your company's requirements. This is important for businesses of any size, from any country or industry. There are six steps to follow when you select a board management software:
Define your business needs. Who will be using the board portal? How often will the company be using the board portal? Which processes will the software cover?
Identify must-have features for the board meeting management software your business will use often: live voting, document sharing, meeting minutes, etc.
Set a budget range your company is ready to invest in a board portal.
Define a list of the best board portals that meet points 1-3 above.
Shorten the list to the top 10 providers and collect additional data on them such as board portal reviews on forums, social media, and other platforms. Make a board of directors software comparison by customer feedback.
Select the top three board portals, talk to their reps, and sign-up for a free trial to find out which one suits your needs better than others.
Therefore, take your time, make lists, look for the first-hand experience and measure the efficiency of the chosen solution every step of the way. It is essential for large businesses as they need to train many employees, which means dozens of wasted working hours in case of a failure.
Board portal choice criteria
Board portal is a universal collaboration tool that can offer enhanced convenience to both the board of directors and employees – if you manage to choose it properly. Below are the three criteria that should be taken into account when making your choice of a board portal solution:
1. Deployment options of board portal software
SaaS Board Portal
SaaS allows you to access the board meeting software on-demand via the internet. The user pays only for the number of seats that are actually used with no need to install special board software or purchase individual licenses.
Self-hosted Board Portal
An alternative for SaaS is a hosted board portal software. When favoring this approach, a business fully owns the board of directors software: each user of the system will need a separate board of directors portal that will interact with a common database, which, in turn, is also stored on the company's servers.
2. ROI to board software features correlation
Board portal pricing often serves as an obstacle to a board digitization decision. That's why the directors must understand how board management software can optimize the overall organization and operation and reduce costs.
A set of board collaboration tools helps board members and administrators use their valuable time more effectively. At the same time, the physical board materials get replaced with their digital counterparts, eliminating an entire section of traditional meeting-related spendings.
Another key factor to consider is how board portal vendors form the final cost based on the particular features and services. Every board requires a distinct set of board portal instruments, and it makes sense to only pay for the necessary ones.
Board portal feature comparisons can help outline which tools are worth the investment depending on how much value they introduce to the particular board of directors.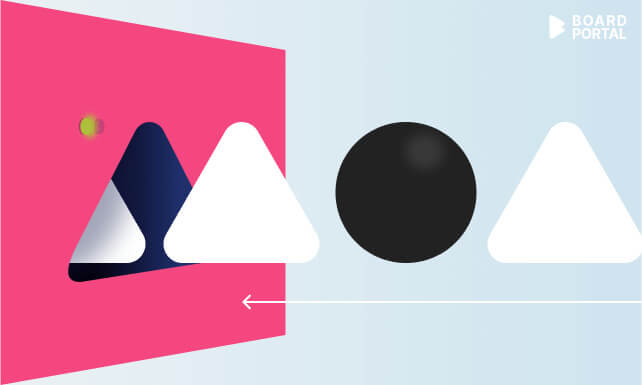 3. Reasonable security level of the board management software
Security is essential to board portal selection. But the required security level of any board meeting management software directly corresponds with the type of organization's activity. For many boards, basic data safety features are highly sufficient. These include:
Multi-factor authentication
In-transfer and in-storage data encryption
Manageable user access levels
Document watermarking, and others
Other boards require more advanced solutions for handling highly sensitive documents such as medical patient information or employee data, for example. In such cases, board of directors portal software has to offer certified physical storage facilities, sophisticated disaster recovery, and customer-managed encryption.
To correctly evaluate the technical security requirements for the board of directors management software, it is vital to account for two factors:
The overall level of document confidentiality across the portal
The expected amount of user control
Main advantages of using the board of directors software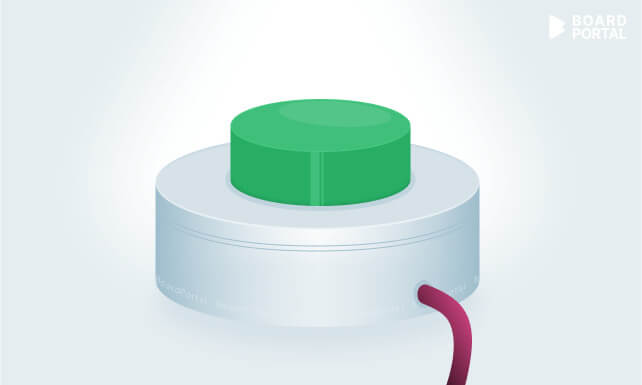 The main advantage of the board of directors software for board meetings is that it structures virtual board meetings.
Here is a shortlist of the benefits that the virtual boardroom provides:
Smooth communication and ease of use. With a board portal, any board of directors can effectively collaborate in strategic management and tactical planning.
Enhanced data protection and security. Another advantage of the board of directors portal is data security. All online board meetings are protected by advanced encryption protocols that make it impossible for third parties to access events or documents.
User management and controls. Modern board portals allow directors to manage various meeting rooms along with document folders and directories; share granular access to them for chosen users or in bulk.
Access to the right tools. Easy management of agendas, notes, documents, discussions, polls, and board meeting minutes.
Goal setting and control. The task setting tool can set reminders to better organize the process.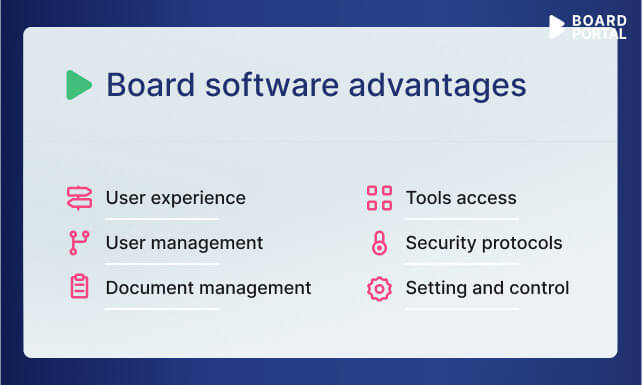 9 steps to improve online board meetings using board portals
There is a workflow that allows a business to manage the virtual board meetings as efficiently as possible. This board meeting management workflow is built from the experience of companies that actively use board software daily. Here are 9 steps on how your company can improve online board meetings using board portals:
Automate meeting scheduling and notifications for regular meetings.
Make sure all the attendees are invited and have access to the necessary documents.
Set the agenda so every attendee has his own time slot to report.
Use meeting minutes builder to automate the process and save time.
Use video to increase engagement.
Set automated notes recordings.
Set up live polls. It helps make decisions and record them quickly.
Transform decisions into real tasks within board software.
After the meeting, collect feedback on the meeting itself, analyze all the bottlenecks that appeared during the meeting, and, if necessary, upgrade this framework to meet the requirements of your business.
Paperless board meetings have plenty of advantages. Simple meeting management principles help make all of them a part of the business routine. Just try to follow them and you'll see how useful boardroom software is.
How to simplify board meeting management within a board portal
A virtual board portal improves your board and team meetings experience at every stage — from preparation to the actual conduct of the meeting, decision-making, implementation of resolutions, and task management.
So let's see how board meeting software helps improve your board meetings at every stage:
1. Board meeting agenda
Ready-made templates. Build a strong meeting agenda from scratch or customize one of the ready-to-use templates available in the virtual board portal. Either way, the use of the software becomes a breeze.
Smooth team collaboration. Assign your agenda items to individuals. Allot time boxes for individual's speech and team discussion. Engage your team in creative practices in all-in-one board meeting apps. Upload, organize, and distribute the documents to the selected team members to let them prepare for a meeting in advance.
Extensive security. In board software, you can protect the confidential information with restricted folders, so that you always share the information safely.
2. Meeting minutes
Easy recording. With the designated time boxes, recording in-depth minutes becomes simple. Do it accurately with easy-to-use board meeting management tools that are included in most board of directors software.
Convenient sharing. Provide the key reference points and make records convenient for your team members and stakeholders in a few clicks.
Creating interactive documents. Board software allows you to create interactive documents with meeting agenda and minutes. You can easily email them to the attendees, as well as to those who were absent, in one click.
3. Voting
Are all the directors available for a board meeting? Poll them to choose the time and date that suit every participant.
Preparing polls. Prepare polls in advance and share them with colleagues in a meeting agenda. This way they will be ready for what happens next and have time to think everything over.
Enabling anonymous voting. Use anonymous voting to avoid the inconvenience and get honest answers about sensitive issues.
Gathering and analyzing feedback. Collect the feedback using virtual polls and voting. To improve the organization, start from the board of directors or from your own team.

Distance is no longer an obstacle with virtual board meeting portals. Keep everybody on track, enable them to participate in making decisions even if they are sick, out of town, or in a traffic jam.
4. Board resolution
Convenient e-signature. Upload or even create the document at the time of the meeting and send it to your colleague for a signature.
Built-in task manager. Transform resolutions into tasks and manage them easily using integrated task managers.
Auto-notifications. Set up due dates and responsible persons after the resolution is made. Keep track of the completion of the tasks with automated notifications.
Board meeting software saves time, eliminates the need to integrate many different media tools into your workflow, and allows the team to focus on what really matters.
How to manage documents in the virtual boardroom
Virtual boardroom allows individuals, teams, and enterprises to easily collaborate with one or volumes of documents:
exchange documents in enterprises quickly and securely
provide online and offline access to directors and stakeholders from any location
distribute materials among meeting attendees and update them when needed
facilitate communication between managers and directors
correct mistakes: no need to waste another sheet of paper
save time and cost on paper
let your assistant focus on your needs and the needs of attendees, instead of paperwork
Paperless, convenient, and eco-friendly
Imagine: your table is clean and empty, just your laptop with all the documents there. Sounds great, right?
Sure we can't completely give up paper documents. However, sharing and reviewing documents online is much more convenient and secure than working with their printed versions. That is why board document management is a highly valued function of board portals. If you want to know more you can read about examples of board documents.
Upload multiple documents at once. Organize files into folders, subfolders, and sub- subfolders. Change folder statuses to give access to different groups of users. And save one tree every year.
Secure, confidential, and hassle-free
Board portals have all these important safety features that e-mail and personal data sharing services lack. Paperless board meetings are easy to access and difficult to hack. Administrators can set up access levels for different users and add other safety factors like encryption.

Have some documents to e-sign? No need to pay extra costs for third-party software tools. Upload or even create the document at the online board meeting and send it to your colleagues for an e-signature at the same moment.
Save your time and free your mind for creative solutions, complicated tasks, and decision-making. Use tools for your paperwork.
Top board portals comparison
It is better to compare board meeting software with even more precision considering the niche of board management software. Board portal reviews help businesses to get a more detailed picture of whether it suits their internal processes.
Board portals comparison by ratings
Board portals pricing comparison
Well-selected board portal software allows board directors and other executives to enhance their board meetings organization process and improve governance. Take a close look at the board management software pricing mechanics to easily navigate the market and find the right technology for your company.
Board portal vendors comparison by customer service
Best board management software providers 2023
Board management software use cases
Many manufacturers make the global market for board portal software highly fragmented. There are big and small providers that work with large enterprises (LEs) or small- and medium-sized enterprises (SMEs). That's why today there are board portal use cases for any industry and company of any size.
Board meeting software for commercial organizations
Commercial organizations use board portals to have these obvious benefits: the ability to run online board meetings seamlessly regardless of where team members are located. For the past decade, board meeting management tools have been, for the most part, utilized by global brands, but today a wider range of SMEs choose employees by their skill set rather than their geographical location.
Board management software for financial institutions
Financial organizations use paperless meeting software because of its security and convenient sharing of documents.
Board software for healthcare organizations
Healthcare organizations use board portals to collect, organize, and prioritize data. Today's healthcare organizations need to leverage data governance so that it gives them the information they need to provide quality healthcare in ways that are efficient, safe, and cost-effective.
Board portals for nonprofits
Nonprofits mostly employ tools to manage meetings to improve the distribution of meeting papers, saving staff time and cutting expenses for printing meeting materials.
Here are some of the nonprofit organizations that use board portals daily:
The Wolfson Foundation
World Habitat
Commonweal Housing
FAQ