Corporate and nonprofit board governance training has become critical, considering that 77% of directors don't have prior board management experience.
This time, you will discover the eight main areas of board governance education, four effective learning methods, and four best practices for training evaluation. Keep reading to learn why boards desperately need more training hours for good governance.
Discover effective management tool for your board
Why care about board governance training?
Today's business environment is continuously becoming more complex, adding new variables each year, from digitalization and changing regulatory landscape to new ESG practices.
Meanwhile, today's corporate governance landscape indicates board efficiency issues due to a lack of training. Ernst & Young, the leading consulting firm, has discovered a gap in board education:
67% of directors have difficulties keeping up with emerging challenges, although it's considered a core board responsibility.
77% of board members don't have prior board experience.
49% of board directors believe they don't dedicate enough time to training.
Individual directors allocate only 11% of their yearly working hours for governance education, but it's already a 30% year-to-year increase.
Also, according to the PWC survey, only 29% of C-suite executives believe their boards do a good job. Additionally, 89% of business leaders want to replace at least one director.
Boards can overcome these challenges with the benefits of governance training:
Solid understanding of board roles and responsibilities. Board directors enhance board management practices, including bylaws, meetings, surveys, etc.
Enhanced board efficiency. New board members learn industry-leading practices in risk management, strategic planning, shareholder activism, etc.
Smooth board collaboration. Workshops, seminars, and team-building events strengthen board member motivation, reinforce team spirit, and improve board dynamics.
Key areas of governance training for board members
Based on our observations, corporate and nonprofit board training typically focuses on the following areas.
Board oversight
Corporate board oversight training helps directors follow well-established and fully compliant board structures led by the board chair and subdivided into committees. Fundamental nonprofit governance concepts, board duties, and legal compliance training lays a solid foundation for new directors.
Risk management
Risk management education for new and aspiring board members centers around financial, operational, legal, and reputational risks for business and nonprofit organizations. Understanding risk management board frameworks helps board directors professionally oversee C-suite operations.
Digital transformation
Governance training for board of directors provides executives with efficient tools and strategies to overcome data management, cybersecurity, and communication challenges.
Understanding the best cybersecurity and remote digital collaboration practices helps board directors respond to challenges and keep a competitive advantage.
Strategic planning
A robust understanding of business strategies helps board members respond to economic, regulatory, and operational challenges. Corporate and nonprofit strategic planning practices help boards provide financial oversight and develop strategic revenue generation plans.
Board evaluation
Professional board evaluation and self-assessment promote effective governance and accountability. Leading evaluation and feedback assessment practices for board meetings, individual directors, and overall board performance ensure continuous governance improvement.
Board succession planning
Understanding strategic approaches to board recruitment improves board composition and streamlines recruitment processes. The world's best talent acquisition practices ensure the board's strong expertise at all times.
Diversity, equity, and inclusion
Understanding diversity, equity, and inclusion best practices helps boards establish correct priorities. Inclusion training allows board directors to achieve a beneficial mixture of expertise and background diversity while preserving government compliance.
Communication and collaboration
Collaboration training helps boards discover the best corporate governance tools and keep up with the digital and remote work trends. The best board communication practices drastically improve all aspects of corporate governance, from board and CEO relationship building to board transparency.
Effective board governance training methods
Our expertise shows that efficient nonprofit and corporate governance training for board members combines several approaches. You can compare them in the table below.
Based on our observations, directors should assess their performance semi-annually or quarterly for consistent results and active board member development.
Check our comprehensive guide to board evaluation, including preparations, tools, and best practices.
Best practices to evaluate the impact of board governance training
Corporate and nonprofit boards can use the following approaches to improve board governance training assessment.
Establish training objectives
Businesses and organizations develop board governance training objectives based on organizational and individual needs, including but not limited to the following:
Organization performance objectives, including financial, operational, risk mitigation, sustainability, etc.
Board of directors needs, including combined expertise of the board and its committees.
The individual director needs, including knowledge gaps and desired skills.
Use the flipped Kirkpatrick model
Many businesses and organizations use Kirkpatrick's model for leadership training evaluation, developed by Donald Kirkpatrick in the 1950s. It introduces four levels of measuring the effectiveness of board training:
Learner reaction. Do learners enjoy the process?
Learning. Do training participants master anything?
Behavioral change. Do training participants apply new knowledge?
Results. Does the training program achieve desired outcomes?
This model emphasizes that enjoyable learning leads to effective knowledge transfer, behavioral change, and results. However, Kevin Kruse, CEO of LEADx and Fortune 500 CEO coach, says this doesn't work as expected.
Counterintuitively, the most effective learning approaches involve the most discomfort. Therefore, board members need to evaluate business training approaches based on the results in the first place.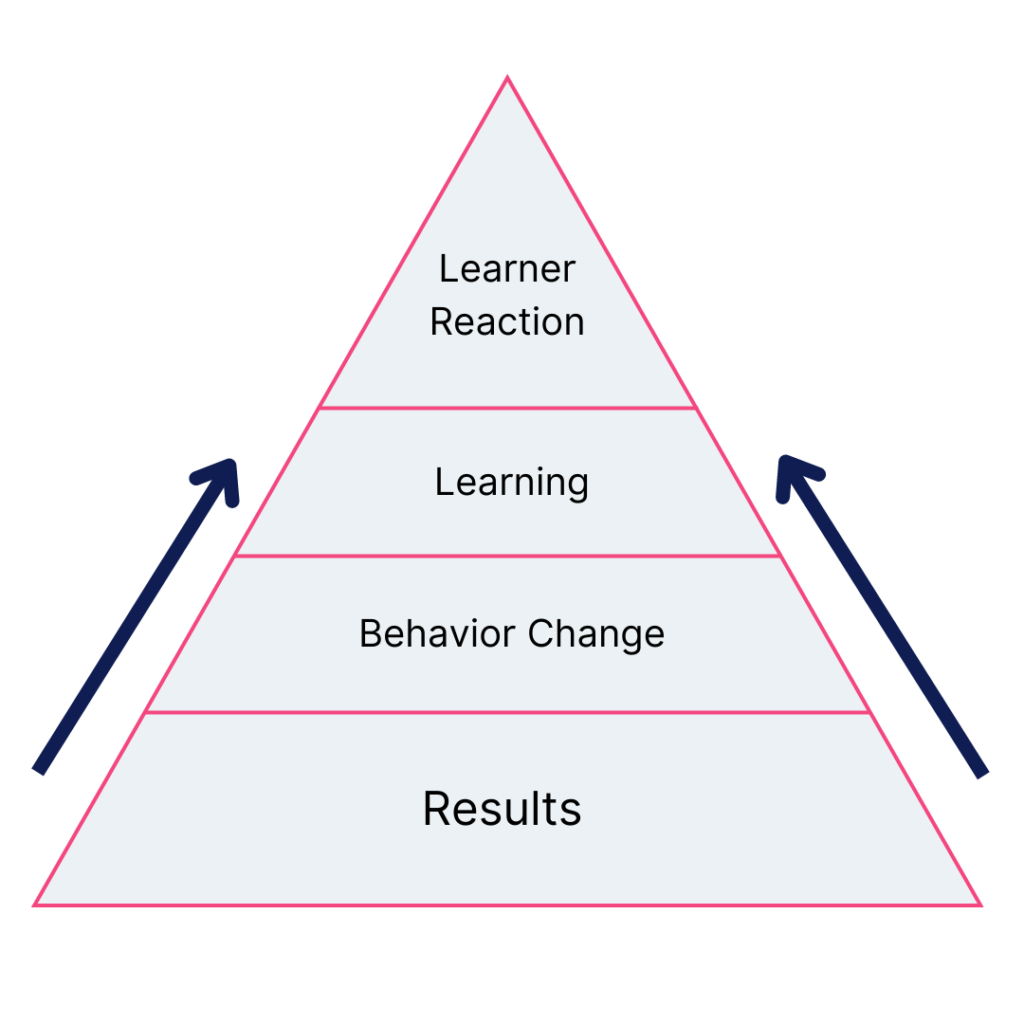 Disclose training results
Companies should also disclose board effectiveness results to raise shareholder confidence. Based on Ernst & Young's board effectiveness study, 57% of businesses reveal board assessment topics.
Still, Board-room.org insists on higher transparency rates within board evaluation and training to promote accountability and measurable development.
Let the third party evaluate training efficiency
Deloitte, an international consulting firm, says the board's self-assessment should go hand in hand with independent evaluation from a third-party advisor. Combining internal and external assessments provides maximum transparency.
Helpful resources for board governance training
Compare the five best governance courses for board members in the tables below:
Education program #1:
Harvard Business School │ Preparing to Be a Corporate Director
Learning format:
Faculty presentations
Case studies
Group discussions
Duration
Cost
Program content
4 days
$11,250
☑ Board governance structure
☑ Board duties and responsibilities
☑ Differences between C-suite executives and board directors
☑ CEO selection process
☑ M&A process
☑ Financial reporting and risk management
☑ Board communication best practices
Education program #2:
Cambridge University │ Board Director Programme
Learning format:
Two-day residential seminar
Duration
Cost
Program content
2 days
$2,800
☑ Strategic issues for non-executive directors
☑ Global sustainability pressure trends, business responses, and implications
☑ Priority areas for risk management and innovation
☑ Best board performance practices
Education program #3:
Columbia Business School │ Corporate Governance Program
Learning format:
Lectures with exercises, case studies
Duration
Cost
Program content
4 days
$9,550
☑ Frameworks, strategies, and best practices for board directors
☑ Financial strategies for value creation
☑ Legal and financial risk management within the audit committee
☑ CEO communications and compensations within the compensation committee
☑ Cybersecurity, shareholder activism, technology impact, and other issues
Education program #4:
The University of Pennsylvania │ Corporate Governance: Maximize Your Effectiveness in the Boardroom
Learning format:
Live office hours
Self-study quizzes
Try-It activities
Assignments
Real-time polls
Journaling activities
Case studies
Duration
Cost
Program content
6 weeks
$2,750
☑ Board governance structure
☑ Reactive and proactive governance strategies
☑ Board diversity and inclusion culture basics
☑ Board strengths and weaknesses assessment strategies
☑ CEO compensation and succession planning
☑ Crisis management best practices
☑ ESG and shareholder engagement practices
☑ Shareholder and stakeholder interest balancing practices
Education program #5:
Kellogg School of Management │ Corporate Governance: Effectiveness and Accountability in the Boardroom
Learning format:
Live and virtual in-person formats
Duration
Cost
Program content
4 days
$10,950
☑ Roles, duties, and responsibilities of the board directors
☑ Existing governance models with implications
☑ Full board vs. board committee duties and responsibilities
☑ Board' role in crisis management
☑ Executive compensation trends and issues
☑ Board member recruitment and skill assessment
☑ Cybersecurity, legal, and investor communication issues in the boardroom
Board directors can also use free governance training resources and courses, including but not limited to the following:
How can board portals help with board governance training?
A board portal is a secure digital workspace designed to streamline corporate governance and encompasses all board management activities. It allows board directors to store and share files, collaborate, conduct meetings, vote, sign documents, manage agendas, and more.
A board portal streamlines the following aspects of board training:
Ongoing education planning. Use Q&A workflows, discussions, comments, digital agendas, and meeting calendars to execute board training plans.
Training materials. Store and distribute board training materials using a file repository with drag-and-drop capabilities.
Internal training assessments. Use audit trails and drill-down reports to evaluate director participation in training activities.
External training assessments. Invite third-party advisors and have peace of mind over security due to role-based access permissions and document security options.
Important: Board portals also provide governance training materials, including webinars, courses, case studies, etc. You can use this comparison chart and board profile reviews to check which vendor combines the best features and training options.
Key takeaways
Boards should invest more time in governance training since 77% of directors don't have prior executive experience, while 49% believe they lack training hours.
Board training areas should include board oversight, risk management, strategic planning, succession planning, board diversity, collaboration, board evaluation, and digital transformation.
Governance training includes in-person and group virtual learning, workshops and webinars, mentoring, and self-assessments.
To evaluate training efficiently, boards should define business objectives and director needs, put results above learning satisfaction, and involve third-party advisors.
Board directors can simplify their training routines and receive quality training using board portals.
Time to use the modern board management software!
iDeals Board serves board of directors, committee members with a comprehensive suite for governance tools
Visit Website
FAQ
How often should board members attend governance training?
Board members should attend governance training sessions on an annual, semi-annual, and quarterly basis.
How long does board governance training typically last?
Training programs vary from 6-hour workshops to 7 or 14-day courses.
How much does board governance training cost?
The board of directors' governance training cost varies depending on the school, duration, type of training, number of participants, etc.
Harvard Business School charges between $5,000 and $11,000 per governance course. You can also access free board training courses and personalized training sessions from board portals.
Can board governance training help prevent legal and financial problems?
Board training prevents legal and financial problems because it improves directors' knowledge of many areas, including strategic planning, risk management, financial management, board succession planning, as well as board's self-assessment and communication.