Do you know that companies spend $100 million on needless meetings each year? You're in the right place if you want your company to hold simple board meetings that meet the participant's expectations.
Keep reading to learn how to write a board meeting agenda that revives your meetings. Check meeting preparation tips, learn how to write meeting minutes, and get your sample board meeting agenda template.
What is a board meeting agenda?
A board meeting agenda acts as a roadmap for meeting organizers, providing an efficient way to navigate discussions and accomplish goals. It also serves as a protocol for the head of the board of directors by including an ordered list of issues, as well as the appointed members and their roles.
Online tools, such as board of directors meeting agenda software, can save tons of time and capture the most important details of a meeting. A board meeting agenda tool can reduce the need for correspondence, sending emails, and sharing documents, ultimately boosting the efficiency of your organization's board meeting from start to finish.
Correctly preparing an agenda for a board meeting ensures:
consideration and solution of urgent issues
access to relevant documents and reports
competent time allocation
a clear plan for discussion, minimizing time wasted
Don't forget to align the agenda items with your annual board meeting plan to ensure that every meeting contributes to your organization's strategic goals.
Board meeting agenda template
Looking for a board of directors meeting agenda template? You've come to the right place. Below you will find a simple board meeting agenda template you can use for your business.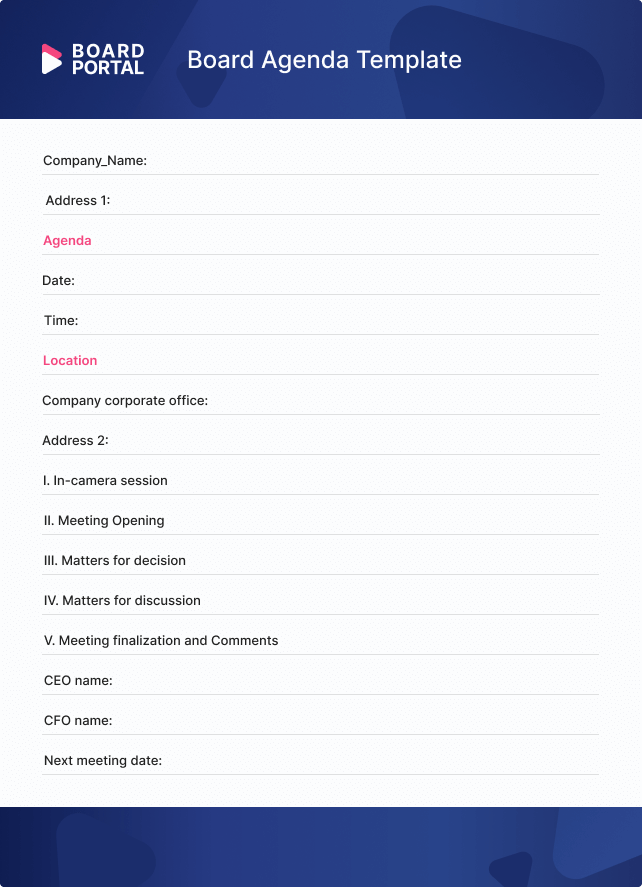 How to enhance the efficiency of the board?
Get board meeting agenda template
Download
Using a board meeting agenda sample in pre-meeting preparation
If you are wondering how to run a board meeting script or how to prepare for a board meeting, you should start a few weeks in advance and take the following steps:
Prepare committee reports. Gather financial reports, as well as updates, notes, and other documents. They should be compiled by corporate executives and included in the agenda.
Compile a clear agenda. The board secretary should bring up agenda topics to be discussed and fill the agenda template with action items, reports, notes, etc. Afterward, they should compile the agenda, previous meeting minutes, and board reports into board packs.
Distribute the board packs. The secretary should send the board packs to the board directors via email or secure board management software. They should receive the agenda a week or two earlier to get enough preparation time. 
Stick to the Robert's Rules of Order. Ensure that the prepared board meeting agenda adheres to the Robert's Rules of Order agenda principles, a widely accepted parliamentary procedure manual.
How to use an agenda board meeting template for the next board meeting?
Once you finish the meeting, you can take the following steps to use your template for board meeting agenda for the next gathering:
Take meeting minutes. The meeting minutes represent the record of the meeting and help you understand the direction of the upcoming gathering. It's crucial to take minutes as soon as possible post-meeting if you don't take them during the discussion.
Repurpose the agenda format for board meeting. A sample board of directors meeting agenda format allows you to substitute the previous records with new ones relating to the next meeting, saving you time and mental effort.
How to create an agenda for a board meeting
Do you want to keep participants on task and capitalize on board meeting time? Learning how to create an agenda for a board meeting can help. Here are some best practices to consider:
Approve the purpose of the board meeting. The purpose of most board meetings is to make several decisions. But, agenda tasks can also include strategic planning, problem identification, task assignment, financial performance assessment, etc.

Choose specific topics to discuss. Without a detailed agenda for a board meeting, it's easy to waste time on unnecessary issues. Decide which topics will be discussed ahead of time.

Identify a speaker for each of the agenda items. To ensure every item on your agenda for a board meeting is discussed adequately, identify a speaker for each topic and give him or her time to prepare.

Indicate the time frames for each agenda item. Keep the board meeting on task by determining beforehand the time that will be devoted to each topic.
An effective template for agenda for board meeting should have the following structure: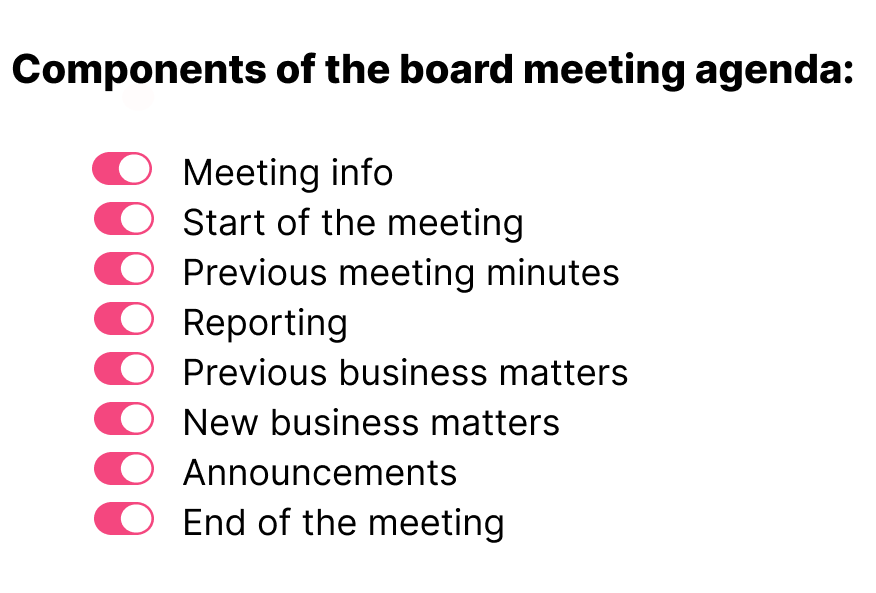 Meeting info
Board meeting agendas contain the name and address of the organization and state the meeting date, location, and time. You can skip the meeting location if it's a virtual board meeting.
Start of the meeting
The formal opening ceremony begins when the board chair announces the meeting, greets the attendees, and officially calls the meeting to order. Afterward, the secretary can take meeting minutes.
Previous meeting minutes
This agenda section lists the files of the previous meeting's minutes. Board members should approve the minutes by voting. At this point, the team may discuss suggestions regarding meeting minutes.
A good indicator of a great board meeting agenda is when board directors spend minimal time approving the meeting minutes because they have reviewed them before.
Reporting
The reports part has attached reports from the CEO and other C-level employees. The corporate executives outline the current state of the business, project milestones, business progress updates, and other aspects.
In a good board meeting, committee members already have considerations regarding the reports as they have reviewed them carefully before the gathering.
Previous business matters
This part lists business items and issues discussed during the previous meeting. The participants should recall and approve them. If there are suggestions, board members move them to the discussion part and vote for the rest.
New business matters
This section enumerates business items for discussion. Participants may debate these topics, providing suggestions and introducing new ideas. Unresolved organizational problems get reviewed in this part as well.
Announcements
This part includes business matters that don't require reviewing, announcements, and comments. At this stage, board members may introduce topics for future meetings.
End of the meeting
After announcements, the meeting reaches an end. The board directors thank each other, schedule the next meeting, and officially end the discussion.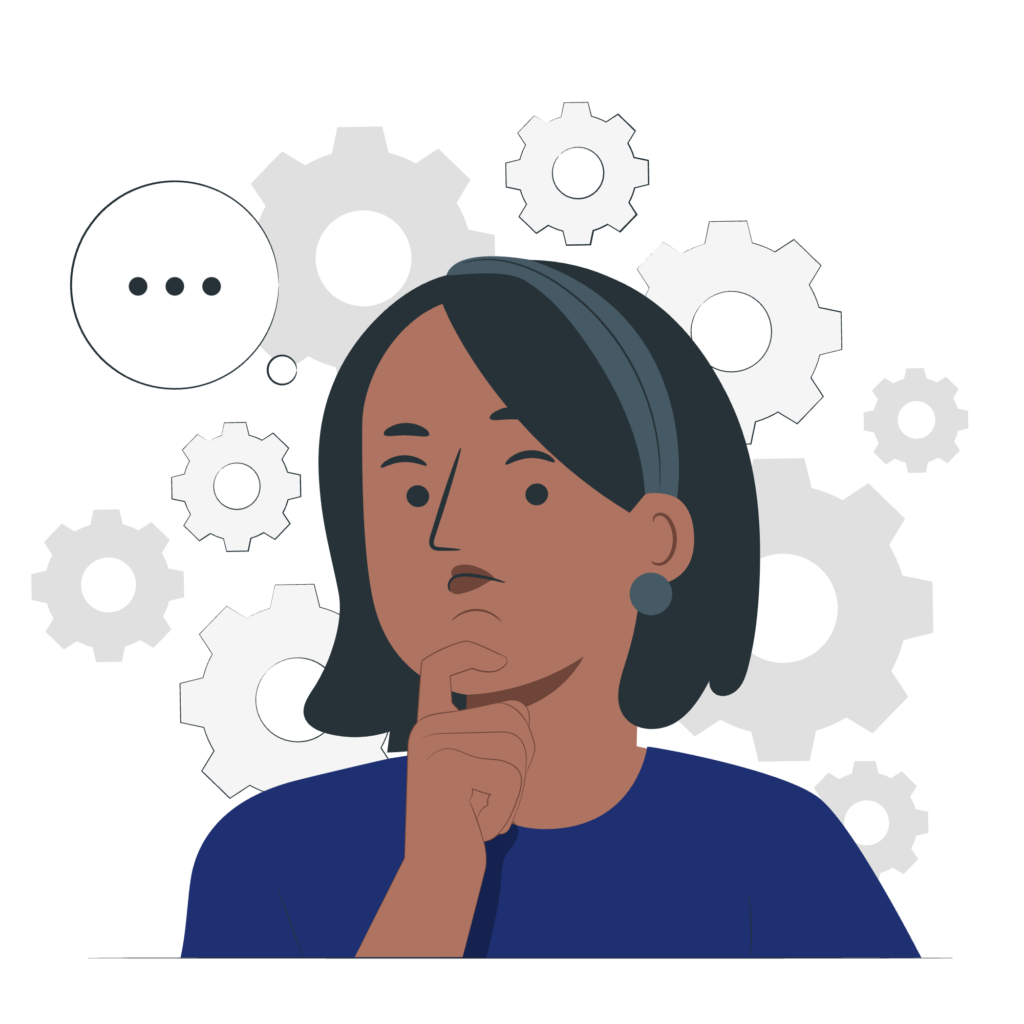 How to use a board meeting agenda for taking meeting minutes
Meeting minutes help you get the most out of your board meeting agenda and not miss a beat. With a board meeting agenda, you can add minutes to each item, leave comments and assign tasks. As a result, by the end of the meeting, you will have a concise, well-ordered task and decision list.
When a meeting is finished you can share the minutes between all participants and link relevant documents — all with just a couple of clicks!
While digital agenda templates simplify meeting minutes, you should make them concise and actionable. Check a few more tips on making effective meeting minutes.
Write in real time
While many secretaries take minutes post-meeting, we advise you to create them during the discussion. It's easy if you work directly on the board meeting minutes template.
Real-time context will help you capture more key details. Otherwise, you will lose many critical aspects as your brain forgets 50% of the information in one hour under a forgetting curve.
Avoid subjectivity
Meeting minutes are official documents that must be free of personal judgment. A good secretary records straight facts and avoids personal observations. Ensure you include comments to provide more details on someone's actions rather than your opinion.
Balance between detail and simplicity
Don't record everything board directors say or do. Doing so shifts your focus from actions and decisions to discussions. Writing in detail means elaborating on agenda items and specific outcomes in managing the board.
Take straightforward minutes
Make meeting minutes easy to understand for absent board members. Indicate who did what at a specific time and list the attendees in the attendance sheet. Include as much detail as to make your records clear to future board members.
Using board meeting agenda templates for different situations
Looking for a board of directors meeting agenda template? You've come to the right place. Below you will find board meeting agenda templates you can use for your business:

Advisory board agenda template for meeting minute

Annual board meeting agenda example

Non profit board meeting agenda template

HOA board of directors agenda template

Change control board meeting template

Quarterly agenda sample for board meeting
How does a virtual boardroom help create board meeting agenda templates?
To maximize the value of a meeting agenda, a virtual boardroom offers an agenda builder in template form. An easy-to-use, customizable board meeting agenda template can assist with assigning tasks, scheduling, sharing documents, and more.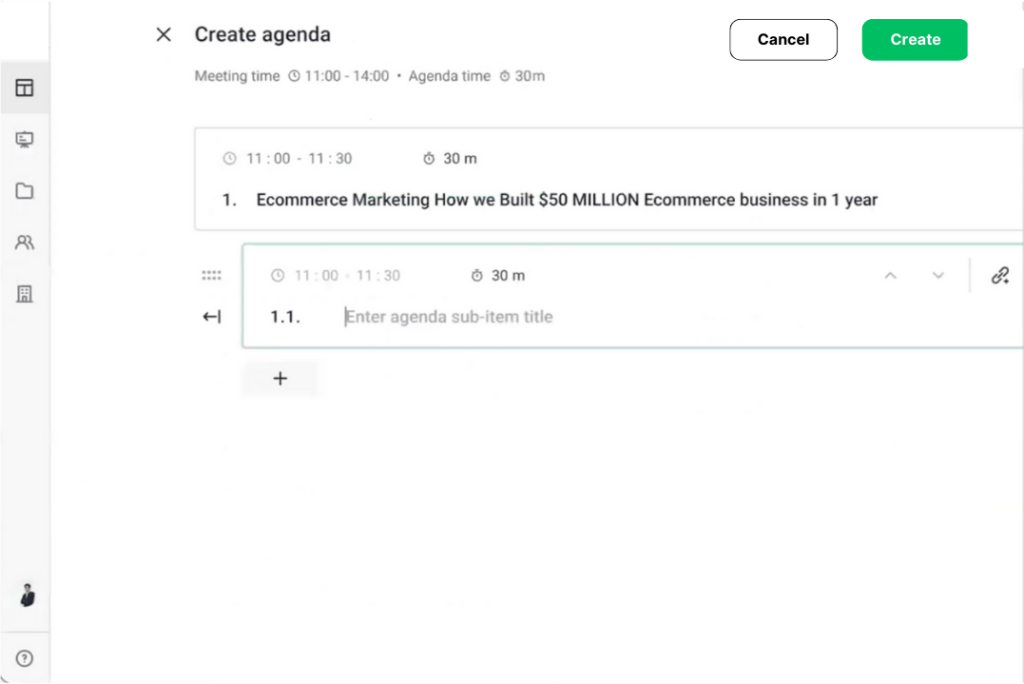 An agenda builder helps to automate tasks that otherwise can be time-consuming while also optimizing preparation and meeting results in an organized way. Build your personal agenda from scratch or utilize a pre-built board of directors meeting agenda template to jump right in.
With this solution, you will get a multipurpose board meeting agenda template that can be customized to meet all your business needs:
build agendas from scratch
use pre-built board meeting agenda templates
create interactive PDF files
add documentation
record meeting audio
allocate time for the presentation
The bottom line
A recipe for effective meetings includes an effective board meeting agenda, well-written meeting minutes, and well-prepared reports. You can prepare them one by one using a sample of board meeting agenda and different tools. But you can also make your life much easier with a digital boardroom.
If you don't know where to start, you can safely try the iDeals board portal. You will get a secure file repository for board reports, a powerful agenda builder, and a convenient meeting minutes tool to kick-start a stellar board meeting.
Time to use the modern board management software!
iDeals Board serves board of directors, committee members with a comprehensive suite for governance tools
Visit Website
FAQ
How to prepare an agenda for a board meeting?
Begin by identifying the purpose of the meeting. Select key topics to discuss based on the central theme and assign a speaker to each topic. Ensure both old business and new business are covered. Finally, allocate a sufficient time frame for each presenter.
What to include in a board meeting agenda?
The basic elements of the meeting agenda are the date, time, and location of the meeting. Then, you need to list all the discussion topics in the order of their presentation and with the assigned time frames. Include the presenters' names to ensure everyone is on the same page. Finalize the agenda with a time segment for final comments, action items assignment, and the next meeting's date.
What should always be on a meeting agenda?
A meeting agenda must always include priority discussion topics, speaker names, and allocated time frames. Using a digital agenda template can help ensure that all the necessary items are included.
What not to include in a meeting agenda?
The agenda does not include the names of all attendees, as this information is covered in the minutes.