While the world is still slowly recovering from the pandemic, the worst political, social, and economic repercussions continue to influence board members — with the consequences of macroeconomic uncertainty, war in Ukraine, energy price fluctuations, and growing supply chain problems.
While having to react to uncertainty, corporate boards need to come up with major decisions for the board of directors management. In this article, we'll explore the top nine board management best practices and some of the best tools for board members.
Discover effective management tool for your board
Why is managing a board of directors a challenge?
Board directors management is a major challenge due to their fiduciary duties and several risks that board directors have to respond to:
Handling company communication. Since the tone of any organization naturally comes from the top, boards should clearly communicate the company's mission, vision, strategy, goals, and policy decisions.

Navigating risks opportunities. Boards should always evaluate culture, strategy, and enterprise risks, while embedding them in all parts of the company's strategy.

Managing shareholder activism. When handling shareholder activism, board members should be able to act as independent directors and use their own judgment for better decision making.
These factors present major challenges for any chief executive. Further on, we'll discover nine board management strategies to prevent and overcome these risks.
9 best practices for managing the board of directors
Some of the best strategies of managing the board include:
1. Make risk management a backbone of your corporate governance
Evaluation of board risk management is about resilience to an uncertain future. According to Harvard Law School on Corporate Governance, among the current uncertainties most boards face in the post-pandemic world are data protection, data security, and legal compliance.
As mentioned previously, boards should clearly evaluate cultural, enterprise, and strategy risks as part of their plan of action. The Deloitte report on Corporate Governance Trends also states that succession planning is essential to the organization's risk management. It suggests a risk management framework assessing vacancy, readiness, transaction, and portfolio risks for each board seat to achieve the expected goals.
2. Clearly divide the role of the executive board member from the chief executive officer
The supervisory board often faces the challenge of managing board relations with outside directors and chief executives. To address this, the supervisory board should build effective communication with the lead director or chief executive officer (CEO), each board chair, and all senior executives.
Having independent directors as board chairmen creates a better balance of power, guides the chief executive officer toward better business decisions, helps bridge the gap between senior management and other stakeholders, and defines board members as primarily responsible for speaking on behalf of the board.
3. Keep your corporate board objective by only inviting independent directors to it
Despite the popular tendency of including organization's senior managers as members of corporate boards, the efficacy of it is questionable. The primary role of effective boards is to be an unbiased, impartial, and objective governing body.
Since boards not only deal with financial decisions, but with issues of organizational structure, hierarchy, budgeting, and timing, ensuring objectivity of all executive sessions is crucial. And while senior executives may have the most direct insight into organization processes, they can make decisions based on their best interests — which is something a strong executive board cannot overlook.
4. Embrace diversity by hiring independent directors with different expertise
In Deloitte's discussion on the new age of board stewardship, the experts emphasize that resilient boards should have diversified backgrounds to make reasonable judgements leading the organization in turbulent times.
That said, board members should be aware of what additional cultural, financial, or strategic expertise is required for performing at full speed whenever needed. As boards evolve and grow, more independent directors with diverse backgrounds should be hired to fulfill the company's strategy.
5. Address ESG as part of your board meetings
ESG considerations should be an integral part of an organization's continuity planning and strategy, therefore should be a priority for the board. Boards should consider ESG factors in consumer spending, investor decisions, employee recruitment and retention, and charitable giving has grown.
Publicly disclosing and following ESG commitments is a significant aspect of the reputation management.
6. Connect board members with outside stakeholders and investors
All stakeholders and shareholders are becoming increasingly vocal about the things effective boards should prioritize.
As such, boards seeking better shareholders engagement should build a quality interaction between shareholders and board members. Using a ready-made board effectiveness checklist is a good starting point toward enhancing stakeholder engagement and communication.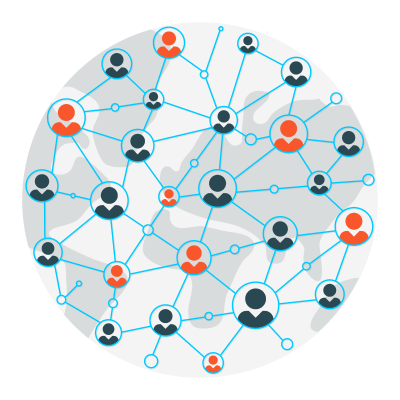 7. Challenge board directors on creative thinking
Diversity of thought brings many strategic advantages to board members. In time, not only does this diversity streamline corporate governance, but it also increases chances of shareholder and investor support.
According to the Harvard Law School Forum, cognitive, cultural, and demographic diversity is even more important than hiring independent directors with strong professional expertise. Thus, it is paramount for the management board to appoint directors with racially, ethnically, and gender diverse backgrounds.
8. Cultivate agile corporate governance approach
Maria Castañón Moats, the Leader of Governance Insights at PwC, emphasizes the potential for recession in 2023 as a key factor for improved governance and the need for a nimble approach.
That said, the ability to adapt to changing conditions is essential for successful boards and businesses. That partially explains why, despite the global economic uncertainty, 83% of senior executives still focus on growth as the core of the strategy.
9. Leverage best practices of managing the board
Effective governance, risk management, and compliance are crucial for every board. Holding productive virtual board meetings is a fundamental aspect of governance. Such meetings allow keeping all decision making processes in one place, while ensuring compliance and board responsibilities are executed effectively.
Strugglle to simplify the board governance?
Check out board portals for more effective governance
Effective tools for managing the board
Board members have multiple responsibilities that require the use of the right tools to complete their key tasks effectively and efficiently.
Board evaluation tool. This tool allows assessing the fulfillment of board member responsibilities internally.

Board meetings tool. This tool allows arranging virtual meetings instead of face-to-face board interactions.

Meeting minutes tool. A meeting minutes tool can help the board secretary take notes, create tasks, track attendance, and mark motions during the meeting.

Skills matrix tool. A board or an audit committee can use this tool to evaluate the skills and background of each director.

Board portal. The board management software is an all-in-one virtual board room many board members can use to centralize all processes, including securely accessing board documents, communicating with other effective board members, and fulfilling their governance responsibilities: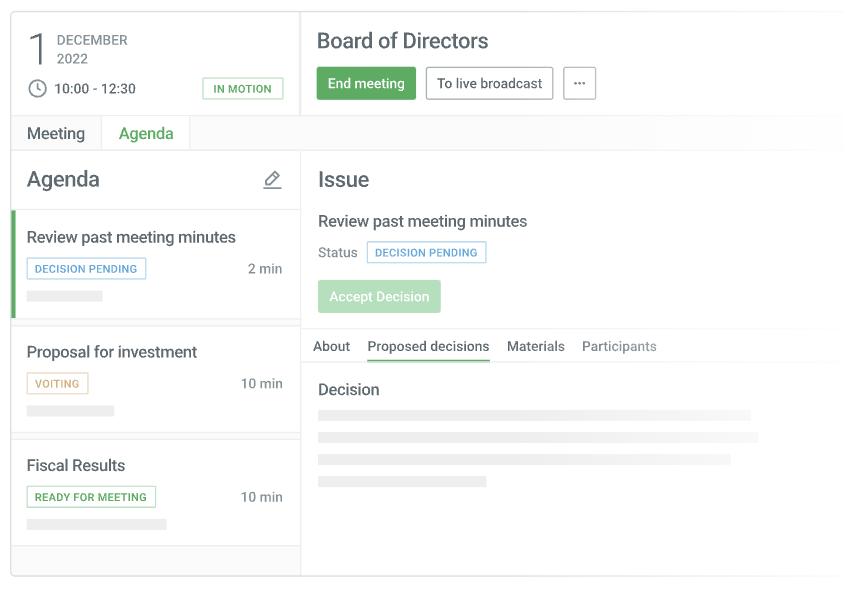 Using a board portal for managing board
Board portals serve as an all-in-one tool for board meetings of any type — from board management software for credit unions to board management software for nonprofits. In particular, they can help directors:
Foster greater engagement with automated paperless board meeting preparation
Use board voting, agenda building, minutes preparing tools to facilitate decision making
Create action points, track performance as part of most-meeting collaborating
At Board-room.org, we know what good board meeting governance takes. iDeals is the number one recommendation of our experts for facilitating all stages of meeting preparation, collaboration, and delivery.
Time to use the modern board management software!
iDeals Board serves board of directors, committee members with a comprehensive suite for governance tools
Visit Website
FAQ
What is board management?
Board management is a process overseen by board directors. The board of directors is the governing body of a company and is elected by shareholders in public companies to establish strategy and supervise management.
What is the difference between board of directors vs board of management?
Directors play a crucial role in establishing the values and ethical stance of the company. Managers are responsible for implementing this ethos, guided by the direction set by the board.
Why is managing a board of directors challenging?
Managing board of directors is challenging due to communication, risk management, fiduciary responsibilities, and shareholder activism. To successfully overcome these issues, board members must be equipped with the necessary knowledge and skills.