The rising relevance of responsible governance among investors became increasingly important. According to McKinsey, governance-related requests from investors throughout the world have increased by 5,000% over the last decade — 49% year on year — from 27 in 2009 to roughly 1,400 in 2019.  
A successful advisory board, when properly created and managed, may give non-binding but educated advice and is a valuable ally in the pursuit of greater corporate governance. As much as they are not part of the company's management structure, they contribute their expertise by addressing key issues and providing insights into projects.
This article explains the advisory board roles and responsibilities and board of directors structure, while giving best practices for effective membership.  
Discover effective management tool for your board
What is an advisory board?
The advisory board is a group of individuals in a company who offer strategic opinions on specific aspects of a company's processes. They have no fiduciary duties or legal responsibility for the organization's operations, but their advisory services are important to help an organization handle its legal, financial, or managerial responsibilities.
Do all businesses need an advisory board?
Companies wondering about forming an advisory board must address a critical question: "Why are we establishing an advisory board, and what do we want out of it?" The company may require support with everything from marketing to managing human resources to influence regulators' decisions.
More often than not, an organization, either a nonprofit or for-profit with a nonprofit side, needs the community it's reaching out to, to perceive it in a positive light. The advisory board definition often mirrors the image of the organization.
There is a short overview of the cases when companies might need an advisory board:
Fast growth and expansion
M&A
Assistance with staff development
Difficulties in board communication
Strategic partnerships
Conflicts resolution
Important decisions due to a shift in course
Benefits of an advisory board
An advisory board member brings to the company a lot of information, skills, and experience. In its report, BDC states that 86% of businesses with advisory boards experienced up to a 24% rise in revenue, while company productivity climbed by 18%. 
These people are frequently experts in their professions, capable of giving insights, and advice. Here are some specific ways an advisory board member might contribute value:
Leveraging expertise. Employ the useful and practical advice provided by experienced advisors who specialize in boosting company success.
Improving reputation. A positive reputation fosters increased trust among consumers, partners, and stakeholders, potentially leading to new possibilities and partnerships.
Building trust. A trustworthy company is more likely to attract and keep customers and partners and acquire the trust of investors.
Attracting top-tier talents. The presence of a reputable advisory board makes the firm more desirable to top-tier experts looking to join a vibrant and forward-thinking organization.
Cultivating culture. Advisory board members understand the company's culture. This helps to maintain continuity and consistency with the organization's values and goals
Purpose of advisory boards
Advisory board members provide strategic counsel and expert guidance to organizations, whether they are corporate entities or nonprofit organizations. The advisory board's purpose is to fulfill corporate advisory board responsibilities or nonprofit advisory board responsibilities, depending on the context.
These responsibilities encompass a range of advisory board duties, such as:
Advisory board meetings, when these board members or specialists convene to deliberate on critical issues, are often led by the advisory board leader or chairperson.
Importantly, compensation advisory board members and membership advisory board members often serve on a volunteer basis. In fact, they are motivated by a desire to see the organization succeed and adherence to board governance models that encourage effective and ethical governance practices.
The difference between an advisory board and a board of directors
Both boards are key aspects of a nonprofit; however, their roles diverge. The role of advisory board often extends to providing industry trends, facilitating contact network expansion, generating new business ideas, and offering invaluable expertise.  The infographic depicts the main differences between board of advisors responsibilities and the board of directors: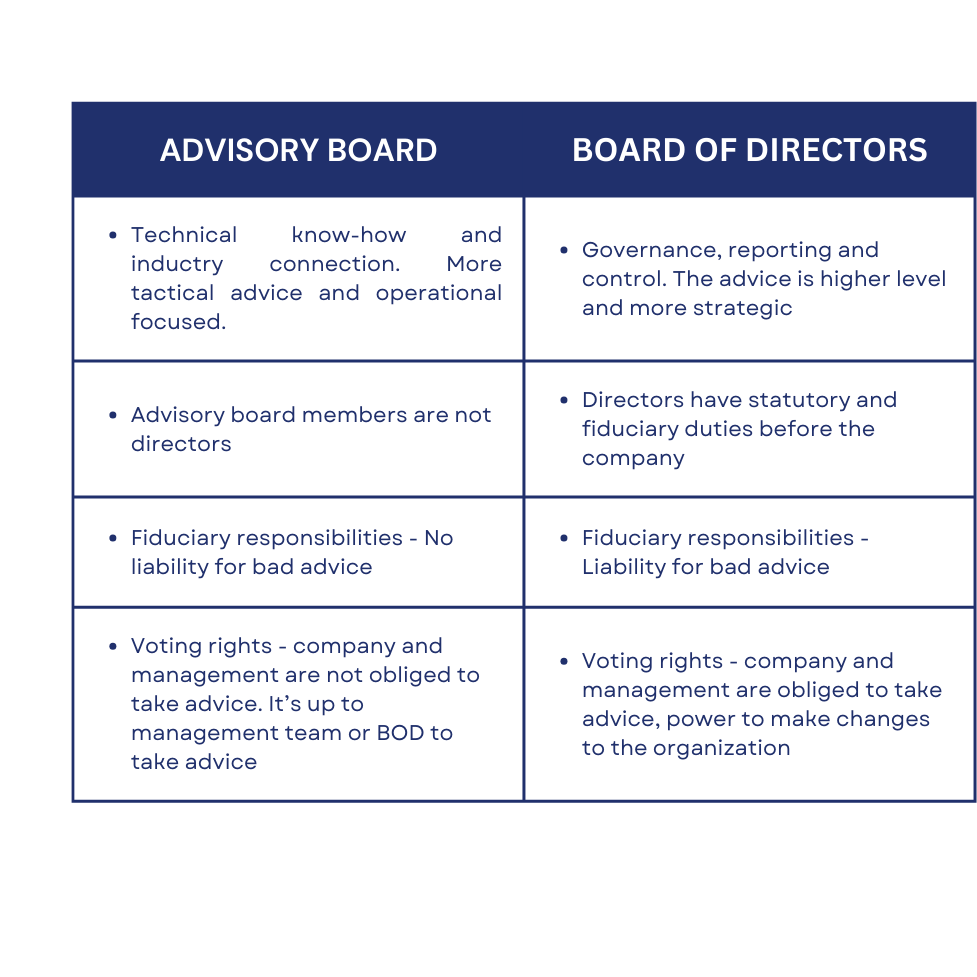 In essence, the advisory board advises the organization on its operations, while the board of directors acts in charge of the organization's day-to-day operations. The board of directors bears all financial and legal responsibilities, while the advisory board's mandate is exempt from these obligations, except working to raise funds for the organization.
Nonprofit leadership distinguishes between the board of directors and advisory boards. The directors' board defines the organization's objectives and monitors success through key metrics, while advisory board members offer expert guidance to achieve these goals effectively. This division of responsibilities optimizes strategic planning and goal execution. 
Both boards may act as the face of the organization on separate grounds. While the board of directors acts as the professional public relations officers of the organization, the advisory board members may act as ambassadorial public relations officers — passively or actively.
Finally, the board of directors is vested with the power to appoint the organization's key officers, such as the CEO and the chief financial officer (CFO). Also, they can dismiss these persons from their duties if their performance is not up to par. However, advisory board members cannot function in these capacities, they have no power to elect or terminate.
The chart below summarizes the key distinctions between advisory boards, governing boards, advisory councils, steering committees, and change control boards.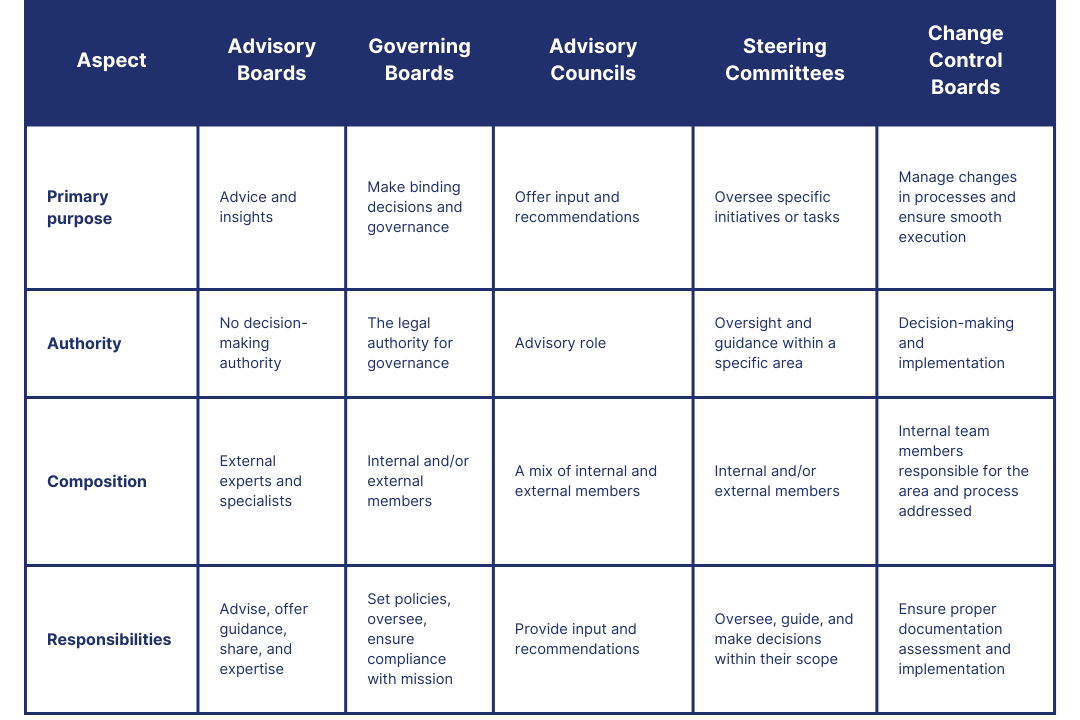 Types of advisory boards
Advisory board types vary widely, each with its distinct qualities. These boards, acting as a sounding board for senior executives, fulfill specific roles within an organization. Depending on the context, they may include multiple boards, from those focused on a local company to those specializing in a particular foreign jurisdiction.
Programmatic. This type of advisory board is formed from low-income social workers' clients, who have vast experience on the issues that a nonprofit is poised to solve. They help to provide valuable feedback to the nonprofit on the impacts of its programs.
Young professionals. An advisory board of these ambassadors consists of young people who represent the younger population that an organization is looking to serve. They provide insights into activities and advise the management on creative ways to serve the population they represent.
Letterhead. These advisory board members play no physical roles in the nonprofit other than providing the goodwill of their names to a nonprofit's operation. You find these names on the nonprofit's correspondence, but beyond that, these advisors have no other input to the nonprofit.
Fundraising. A fundraising advisory board could be created to advise the organization on prospective fundraising activities and how to reach new donors. 
Governance. This board lends its expertise to advise on how the leadership is chosen, and their decision may largely influence the outcome, even though they have no direct role to dictate who is or is not appointed.
CAB. A CAB consists of selected customers or clients who provide valuable feedback, insights, and suggestions based on their experiences with the organization's products or services
The advisory board member roles and responsibilities
So what does an advisory board do? There are no specific rules to how members of an advisory board should act and the responsibilities expected of them. However, there are expectations and unwritten advisory board responsibilities such as
Strategic guidance. Advisory board members don't just provide suggestions; they actively shape the organization's strategy and decision-making.
Networking and partnerships. Advisory board members leverage their extensive networks to open doors to potential collaborators, investors, and partners. They cultivate relationships that prove pivotal for the organization's advancement.
Industry expertise. These members bring critical domain knowledge and industry-specific insights to the table. Their understanding of industry trends and best practices ensures the organization remains agile and competitive.
Accountability and risk management. Advisory board members share in the responsibility for the organization's success. They collaboratively work to identify and mitigate potential risks. 
What an advisory board structure looks like
The structure of the board is up to you, as are their roles. Although, there are simple tips to keep in mind.
It's best to have an odd number of board members to avoid a tie when voting. The number of members need not be too large — nine or eleven is sufficient. Thus, a smaller advisory board helps to make the decision-making simpler. However, some companies have from three to five board members. 

Source: Chinook Capital Advisors
Your advisors should be experienced and experts in the industry, especially if you're searching for investors for your company or donors for your nonprofit. When organizing board meetings, you should have a number that represents the equity of your company, or the audience you're reaching out to.
Don't forget to determine how you're going to compensate board members for their expertise and commitment to your organization. However, you choose, remember that it could help to motivate them all the more.
Best practices for effective advisory board membership
Advisory board members are critical to an organization's success. Consider the following practical advice to make the most of this position:
1. Clear and open communication
Encourage open and honest contact with the organization's leadership. Engage in discussions to ensure that your ideas and suggestions are properly appreciated and in line with the strategic direction.
2. Regular participation
Your active participation is the foundation of your effectiveness. Thus, attend meetings and discussions regularly. Your presence demonstrates your commitment to the organization's mission and ensures informed decision-making. Thus, each contribution you make adds value to the discussions and the overall direction.
3. Staying informed
To be a forward-thinking and valuable advisory board member, you must stay informed about industry trends and developments. Continuous learning and staying updated with the latest advancements in your field will empower you to bring fresh and relevant insights to the table.
4. Confidentiality and discretion
The trust you foster within the organization is one of the cornerstones of what you do. When dealing with sensitive information, maintain the utmost level of secrecy. Respecting the confidentiality of internal matters protects the organization's integrity and strengthens your reputation as a valued counsel.
Consider using board portals to increase your effectiveness as an advisory board member. These secure digital systems simplify communication, allow simple access to meeting materials, and protect sensitive data. In turn, iDeals Board provides a set of features that bring transparency and security to your business.
How to create and manage a successful advisory board
To achieve success in your organization, it is crucial to gather a strong advisory board that is capable of providing valuable insights. This requires taking assertive and pivotal steps:
Identifying the right members. The foundation of a successful advisory board lies in its members. Seek individuals with diverse expertise, a proven track record, and a passion for your organization's mission. They should be well-connected, with the ability to open doors and offer valuable guidance.
Setting clear objectives. Define your advisory board's purpose and expectations. What specific challenges or opportunities will they address? Having a clear mission ensures everyone is aligned and working towards common goals.
Structured meetings and agendas. Develop a structured agenda that focuses on key issues and ensures each member's time is well-spent. Encourage open discussions and brainstorming while maintaining a disciplined approach.
Evaluation and feedback. Regularly assess your advisory board's performance. Are they meeting the set objectives? Collect feedback from both board members and your organization's leadership. Make necessary adjustments to improve the advisory board's effectiveness.
4 challenges encountered by advisory boards
Creating advisory boards can be a cost-effective endeavor that demands little in the way of management. But, as with any facet of business, challenges invariably arise. These hurdles must be addressed to unlock the full potential of advisory boards.
Balancing diversity. Diverse perspectives and ideas add immense value to the decision-making process. However, there lies a challenge within this opportunity: how to strike the right balance.
Limited interaction with peers and company leadership. It is sometimes difficult to comprehend why members do not participate in the discussion. It's much more upsetting when you don't see them socializing with external stakeholders and fellow members.
Solution. To address the problem of communication, try promoting open communication and organizing team-building events.
Transforming valuable insights into tangible actions. When there's no clear plan to capture insights and turn them into action, it's easy for valuable ideas to slip through the cracks. It usually leaves other board members feeling disillusioned, and their engagement wanes as they wonder if their input truly matters.
Solution. Implement a structured approach with robust insights documentation, prioritization frameworks, clear action planning, regular updates, feedback loops, and recognition of member contributions.
Keeping member engagement. While companies may initially launch a robust program with successful meetings, there is often a significant lull between these meetings. During this downtime, both members and internal stakeholders may lose sight of shared goals and outcomes
Solution. Successful advisory board meeting organizers recognize the importance of maintaining member engagement in between meetings. They do this by establishing ongoing communication channels, such as regular conference calls and webinars. 
Key takeaways
While lacking binding authority, the advisory board's role provides priceless insights and expertise for robust corporate governance.
A positive reputation, nurtured by advisory board contributions, fosters increased trust among consumers, partners, and stakeholders, opening doors to new opportunities and partnerships.
Clear objectives are the cornerstone, guiding the advisory board roles towards defined purposes, be it strategic guidance, market expansion, or problem-solving.
Maintaining regular communication and feedback keeps advisory board members engaged and ensures their advisory board roles remain relevant
Time to use the modern board management software!
iDeals Board serves board of directors, committee members with a comprehensive suite for governance tools
Visit Website
FAQ
Are advisory board members paid?
Advisory board members, whether serving on compensation advisory boards or membership advisory boards, are typically unpaid for their roles in advisory board meetings. Unlike board members on boards of directors, they generally do not receive compensation for their services.
What does an advisory board do?
Advisory board members offer strategic advice and wise counsel to the senior management team. They provide valuable insights into industry trends, business performance, and corporate matters, aiding in the organization's strategic decisions.
What are the roles and responsibilities of advisory board members?
Advisory board members provide valuable advice on industry trends, business performance, and corporate matters. They attend meetings to offer high-quality advice and focused input and make efficient and effective strategic decisions. Their significant representation and industry knowledge contribute to the organization's reputation and success.