Board structure and composition are critical success factors for any organization. After all, the board of directors is the core legal governing body that oversees the general direction and performance of a company or nonprofit organization.
Ideally, board members make a team that jointly supervises the activities of an organization.However, a report shows that only 35% of chief executives think their boards' impact on defining strategic priorities is very positive.
There's more than enough room for improvement in this area. That's why we'll discuss the basic structure of board of directors, key roles and responsibilities of board members, and the tools used to support boards on their way to efficient governance.
What is a board of directors? Key roles and types
A board of directors is a team of professionals who provide oversight on the strategic decisions impacting the organization.
This involves setting overall organizational direction and goals, monitoring the performance of management, and ensuring compliance with laws and regulations.
Board committees ought to be composed of individual men and women who offer diverse perspectives on corporate board strategy and decision-making.
There are different types of boards, with the structure being determined by the bylaws of a company and national regulations. The same goes for the nonprofit board structure or advisory board. The two main types are these:
Independent board. In this structure of company board, most of the board members are outside directors who do not have an affiliation with the company and provide independent decision-making.

Insider board. This type includes a majority of incumbent officers and the company's chief executive officer. They are employees or members of the organization who are expected to have a strong understanding of its goals, operations, and culture.
It's important to look critically at the roles and responsibilities of the board president and other board members when creating an effective board structure. It ensures that they align with the long-term objectives and strategic priorities of companies or nonprofit organizations.
What is board structure? Core principles of the board of directors structure
The structure of a nonprofit board, an executive board, or any other type depends on the organization's bylaws, legal framework, and defined roles. Besides that, structures vary in different types of organizations. We can recognize different practices in:
Nonprofit board of directors structure
Board structure in corporate governance
Board of directors structure for small business
For example, executive directors and board members in the corporate sector receive compensation. These can be anything from stock options to cash, depending on the company's performance. It's very different from nonprofit boards, which usually have a voluntary commitment to serve as board members and receive no compensation for their service.
But despite all these differences, there are a few core principles that drive successful board structures. Here they are:
Establish clear roles and responsibilities for board members. Every board member should understand their role and duties before joining.

Choose the right mix of expertise and perspectives. This will help the board make strategic decisions and reach better outcomes.

Encourage dialogue and collaboration to drive progress. It is essential for boards to have healthy conversations about key issues to move the organization forward.

Provide sufficient training for all board members. This includes in-depth orientation, ongoing professional development, and understanding of corporate governance best practices.

Focus on transparency and accountability for all board members. This will ensure that the organizations are in compliance with applicable laws, regulations, and ethical standards.

Establish a feedback loop to measure results. It is important to review the outcomes of board decisions and corrective action when necessary.
According to the report, a typical organization will have 11 board members. However, the number of board members varies drastically, depending on the size and type of organization. Similarly, board meetings are not necessary for smaller companies or nonprofit boards that don't need a formal structure with set rules.
But who makes a typical board member? Who has the right to participate in board meetings? Let's take a look at a typical board structure: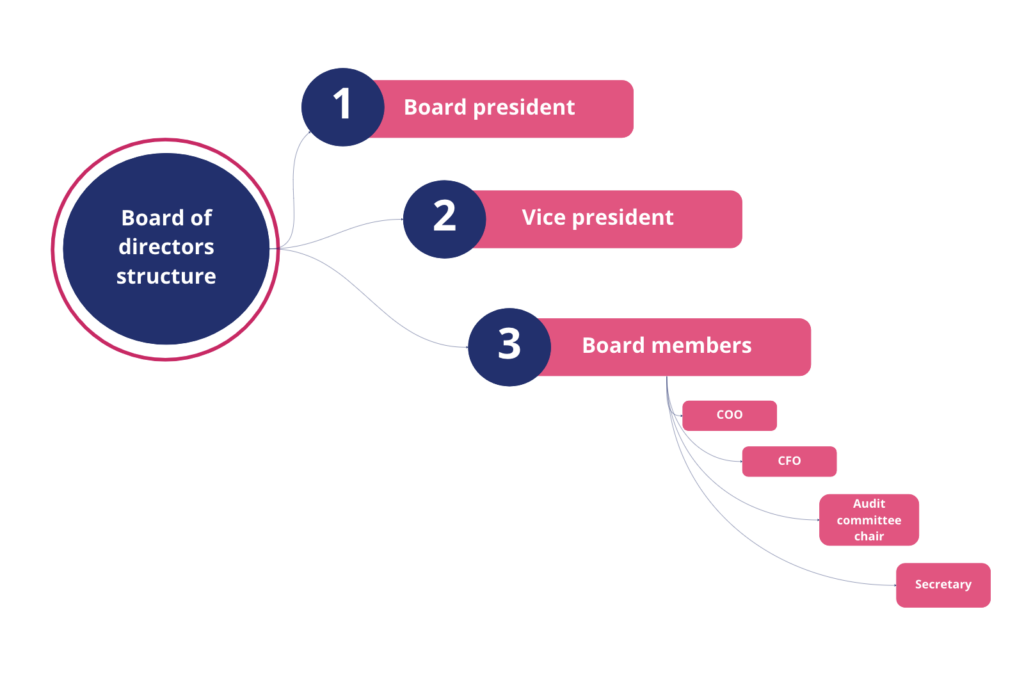 1. Board president
Both corporate and nonprofit boards have a board president who is responsible for leading the team. A board president is often the executive director who handles the day-to-day operations of nonprofit organizations or the CEO of a company.
The board president has a fiduciary responsibility to protect the interests and present the viewpoints of shareholders and other stakeholders. The role also includes setting goals, facilitating meetings, and ensuring that all members are well aware of their roles and responsibilities. He also works closely with an executive committee.
2. Vice president
The vice president is typically a board member who assists the president in making decisions. In case the board president is absent, their primary responsibility is to represent the board and take control of discussions. They also have a significant role in helping the president with organizational tasks such as setting agendas, taking minutes, and ensuring that all participants are aware of their rights.
3. Board members
Besides the executive director, board members usually consist of outside directors and key personnel from the company. The purpose of the board is to represent a diverse set of skills, backgrounds, and perspectives.
Strong financial performance and risk management practices are also essential for an effective board structure. That's why board meetings usually host these board members:
Chief operating officer. The COO is in charge of daily operations and has a wide range of responsibilities including planning and monitoring performance.

Chief financial officer. The CFO oversees the company's finances and provides strategic direction to ensure financial objectives are met.

Audit committee chair. This board member ensures that all financial reporting is accurate and oversees risk management.

Secretary. The secretary is a board member responsible for maintaining official records and overseeing administrative procedures at board meetings.
Overall, understanding the structure of a board of directors is essential for achieving success. It is the basis for creating an effective structure that works for all stakeholders involved in a company or organization and helps it reach its desired goals.
Support your board of directors with a board portal
If you manage a corporate or nonprofit board, you should find a way to help board directors stay connected.
That said, a board portal can help you with the following:
Streamline processes like agenda creation, voting management, and document sharing
Organize a virtual board meeting
Ensure that each board member is aware of their responsibilities by providing access to policies and procedures
Facilitate collaboration through discussion forums and comment threads
Empower everyone with a secure boardroom environment accessible 24/7
If you are looking for board management software, try the board portal by iDeals. It is our expert's number one choice.
FAQ
What are the types of board structure?
The most common types of board structures are independent and insider boards. In the former, the board of directors consists only of outside members who are not employees of the company. On the other hand, an insider board structure usually consists of the company's executive director and other upper management representatives in the organization.
What is the role of the board of directors?
The primary responsibility of the board of directors is to protect the interests of the company's shareholders and other stakeholders. This includes setting goals, facilitating meetings, ensuring that all members are aware of their roles and responsibilities, and participating in decision-making processes.
Who does the board of directors include?
The board of directors usually includes the chief executive director and other senior managers from the company. Additionally, it may include independent directors. These are not affiliated with the organization, so they can make impartial decisions.