To regulate the board committee's engagement in the board of directors operations, many organizations create committee charters. Such documents can be created manually or automatically with the help of board portals, which are also great tools for conducting virtual board meetings and establishing effective collaboration between board members.
Keep reading to learn about the board committee charter and how to create it. Additionally, get a template for a committee charter and a few examples.
Discover effective management tool for your board
What is a charter for a committee?
A committee charter is a particular document that defines committee members' roles and responsibilities and ensures good governance.
Reminder: Board committees are individual members of the board of directors who have been appointed to perform a specific task. They regularly report to the full board by providing recommendations for certain actions or decisions for the organization's development.
The committee's charter serves as a guideline for the board of directors. It includes information about the committee's mission, its primary duties, the composition of a standing committee, and its specific procedures.
Creating a charter for a committee helps to keep board committees actively involved in the governance and development process. It sets a direction for the committee members, establishes a legal framework within which they should operate, and identifies its boundaries and limitations.
Benefits of board committee charters
In general, board committee charters improve the board management process. Here are the main benefits of creating committee charters:
It helps all committees and board members stay on track with the organization's overall direction and the duties of each committee board member.
It orients new members of the committee to the general committee's purpose, responsibilities, and limitations.
It serves as a reference for disputes between other committees and reminds them of the legal framework they must operate in.
It provides a clear understanding of the committee's existence within the organization and why committee meetings take place.
The must haves for a charter to a committee
A well-written committee charter states the purpose of the committee, its responsibilities, and instructions on the election and rotation of individual members. Though every organization needs its own committee charter templates, below is the list of the most common components of committee charters:
Now, let's review the details of each component.
Mission statement
This section contains a clear description of the committee's purpose. Here, you indicate why the committee is created, what goals it must achieve, and how this helps to reach the objectives of the entire organization.
Type of committee
This section defines what type of committee your organization creates. There are standing committees or special (so-called ad hoc) committees.
Standing committees serve the organization's specific needs on a regular basis. The main examples of a standing committee are the finance committee or governance committee.
Special committees are created for a certain period of time to fulfill specific tasks. For example, special committees can meet to review a particular company's policy, perform an audit, or plan a special project.
Membership details
In the membership section, all the instructions on how to elect and rotate members are stated. Here, you should also indicate a committee chair, which is usually appointed by the board chair, and a co-chair. Additionally, state the information on how many members a committee must have.
Authority
This section of states what voting privileges the committee's members have, whether they can take part in decision-making, and what operations can be delegated to this committee.
Many organizations also indicate how often the committee meets and whether physical presence is important.
Responsibilities
Naturally, this section contains descriptions of the committee's duties and responsibilities — for each individual member and the overall committee.
Additionally, it contains information about how often the committee members should report to the board, who will host board meetings, and what documents are expected from the committee members.
Termination procedure
This section specifies whether any individual committee member can be terminated and under what circumstances. It describes the termination procedure and indicates whether there's an appeal process in case committee members believe they've been terminated unfairly.
Tip: The committee charter is easier to create via specialized board portals. Most modern vendors offer ready-to-use templates for all key corporate documents, which automates this process. Learn how to choose the board portal for your needs on Board-room.org
Applying the charter's structure: Charter examples for a committee
Before applying a committee charter to your organization, it's helpful to review what other companies already have and perhaps use as a sample charter for a committee. Below are a few examples of how a it can look like for different industries:
Healthcare
Main components: Purpose of Committee, Membership, Authority and Responsibilities, Meetings, Reports, Evaluation.
Main components: Purpose, Scope, Benefits and Success factors, Responsibilities, Membership, Member Selection, Meetings, Other Patient Advisory Roles, Reporting.
Education
Main components: Purpose, Role, Duties, Specific responsibilities, Composition, Meetings, References.
Main components: Purpose, Membership, Meetings, Duties and Responsibilities, Annual Evaluation, Executive Liaison.
Template for a committee charter
When creating a board committee charter for the first time, everyone can experience troubles. That's when a board committee charter template might help. Below is an example of how it can be written.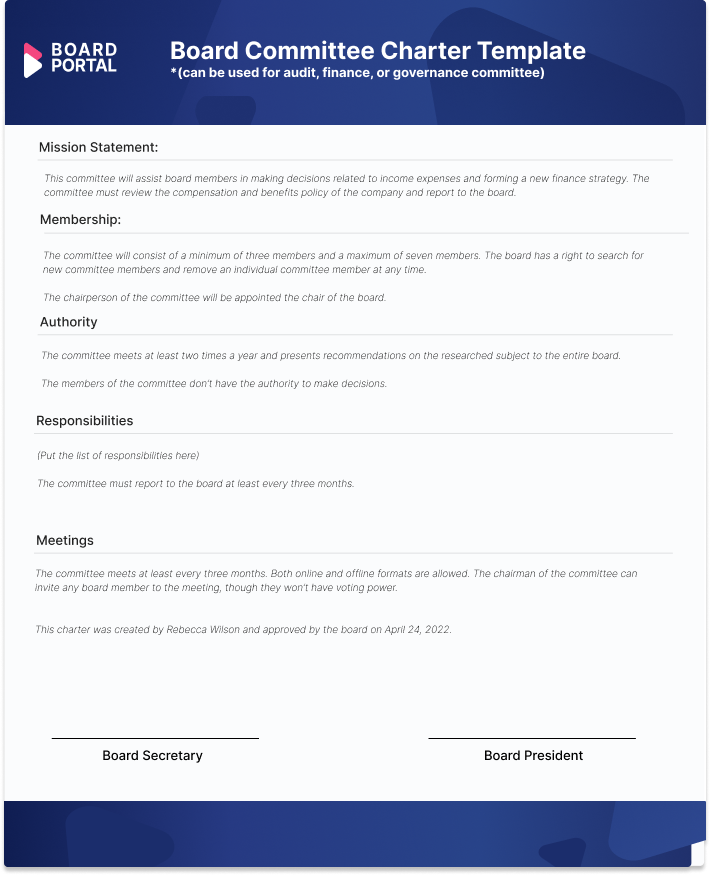 How to enhance the efficiency of the board?
4 tips on how to write a charter for a committee
When writing a charter for a committee, follow these simple recommendations:
Be clear and specific. It's crucial to write a committee charter in simple language every committee member will understand. It's also important to clearly describe the committee's tasks so that everyone knows what's expected of them and performs efficiently.
Remember about bylaws. The board can form almost any rules and regulations for committees, but it's essential to make sure they don't conflict with the organization's bylaws.
Be flexible. You should be ready to apply any changes to the committee's structure and committee charter. The organization's direction can often change, new members join the committee, and others are terminated.
Be transparent. All the duties, responsibilities, and procedures of the committee should be transparent. This way, everyone can clearly see what's required from them or how to behave should special circumstances arise.
Charter for the committee as a part of board management
The committee charter aims to define and monitor the operations of the board committee. With its creation, a board of directors can succeed in committee management and then in decision-making.
The creation of a committee charter and overall governance is even easier when using the board management software. These are specialized board portals created for a paperless board meeting with many additional features that help in planning meetings, storing corporate documents, and cooperating with other board members.
At Board-room.org, you can find reviews of the most popular board portals with detailed descriptions of their features, pricing, and main advantages and disadvantages. The team at Board-room.org thoroughly investigates what each provider has to offer and puts every feature to the test. As a result, you get an honest opinion and the most truthful description of every vendor.
Hint: If you're looking for trusted board management software to improve your board governance, start with iDeals, the top choice of our experts.
Time to use the modern board management software!
iDeals Board serves board of directors, committee members with a comprehensive suite for governance tools
Visit Website
FAQ
What should a committee charter include?
The components may vary depending on the particular organization but usually include such sections as the mission statement, type of committee, membership details, authority, responsibilities, and termination procedure.
Are charters required for every committee?
Such documents may not be obligatory for every organization. However, they are strongly recommended as this is a way to coordinate and monitor the committee's engagement and responsibilities.
What does a board committee charter provide?
A charter committee provides information on the purpose of the particular committee, its duties and responsibilities, structure, and specific procedures. It also provides instructions on how the election and termination should be held and how often a committee should meet.