With meeting software, you can ease the task of meeting organization for the entire team and unload your staff because it eliminates paperwork entirely. By going digital, you save boatloads of time and make sure that all required business documents will be available online from any device.
How can a meeting management solution be used to prepare for meetings?
Directors and administrators don't have to manage documents manually: all necessary files can be uploaded in a cloud and access by meeting participants in real-time. Most programs are compatible with various OS, including mobile devices like the iPhone and Android.
Thanks to meeting software, users can view and edit documents, leave annotations, and download them. The board administrator may set up access rights and control the file-sharing process.
Your team can prepare the documents beforehand and collaborate within the platform. Most vendors include the messaging system and notes in their products, which enables efficient real-time communication in the software environment.
Inbuilt analytics instruments boost your team's performance: an application can generate reports and display valuable business statistics.
Thus, meeting software features a myriad of tools for efficient preparation for meetings. Now, instead of doing tiresome paperwork, directors and administrators can focus on what matters.
Vital features of the board meeting management software
After reading numerous reviews and performing comparisons of the vendors, we have outlined the key software features that are present in the vast majority of solutions and are crucial for the proper organization. Let's see what the best solutions can offer you:
Role-based permissions. The administrators can set up access rights: some users are allowed viewing only, while others can edit documents. That eliminated the risk of unauthorized access and guarantees protection against third parties and hacking. Cloud-based platform infrastructure ensures redundancy and security.
Two-step authentication and encryption. These advanced security measures ensure an unbeatable level of file security. Now you can be sure that the information won't be accessed by hackers or other users.
Meeting center. Scheduling meetings is now easier than ever. Pick a time and assign your participants. Once everybody confirms, the meeting's set. And if you need to reschedule, all it takes is a couple extra clicks.
Members directory. You can easily access member profiles including contact info, biographies, and other relevant data such as location, time zone, and committee membership.
Agenda creation. Choose an agenda template and enter your planned events. You can make it simple or add details, including files. Then share it with your board members. Now everyone can be on the same page — literally.
Meeting minutes. Make sure you get clean and efficient meeting minutes. Sharing is a breeze: Once you generate the minute, you can simply forward it to the meeting participants. Automated and hassle-free.
Voting and polling. A quick vote or poll goes a long way to solving an impasse or deciding on a key issue. With the virtual polling function, establishing everyone's support is a matter of moments. Select one of the available formats, add your question and the voting alternatives, and share it with your board members. Simple as that.
E-signatures. Need everyone's signature? No need to wait: Members can add their signatures electronically with this handy feature. Get signatures for previous meeting minutes, joint decisions, or any other document you need to sign.
Document center. Store important files in your own secure library. Key guidelines and policies, contracts, annual plans, or just some more meeting stuff — anything, in any format. According to their level of permission, your colleagues can then view folders and documents, add comments and annotations, or download files in an easy-to-navigate folder room. It's also easy to customize who has access to what, ensuring a greater level of security.
Task management. Break down meeting decisions into individually-assigned tasks. The steps are simple: Create a task, determine a completion date, and assign participants. Once you get their confirmation, the task is live. Perfect for monitoring progress, following up on assignments, or answering questions.
Board reporting. Get a comprehensive overview of boardroom activity for any given period in a table or graphic format. Includes audit trails for member activity such as views, log-ons, edits, annotations, and so on. You can also see at a glance who has access to what folders or files, and other important details.
Video integration. Add video calls to your board meetings through Zoom and Skype integration, keeping meetings safely in one platform. And if you have a video tutorial or presentation to share, the feature lets you upload or embed videos to the platform, adding them to tasks or agenda items. No need to link to outside sources.
Multiple boards — Single sign-on. Logging in and out every time you need to access a different board or communicate with another group is annoying and time-consuming. Which is why now you can use the same credentials for several boards across the platform.
News and announcements. Keep everyone tuned to the latest developments with platform-wide or group-specific updates. After you add the update/news message, specify a group, room, or the individuals it is meant for. One more click and everyone will be notified.
Offline mode. Going away from the comforts of a fast internet? No worries. With the offline mode, all your work is saved regardless. Once you go online again, it'll be updated for others to see. Now you can work from planes, boats, or your secret off-grid shelter.
Board communication. Keep in touch constantly while working on a shared task — all without leaving your boardroom. Chat in real time with persons or groups, or communicate directly on that file you're working on with annotations, mentions, highlights, comments, and more.
Stay organized and make effective board meetings
As has been mentioned, the board meeting platform simplifies preparation for mission-critical events. This is a one-fits-all solution when you need to organize effective board meetings and save time. So, why mentioned features are crucial for the organization of meetings?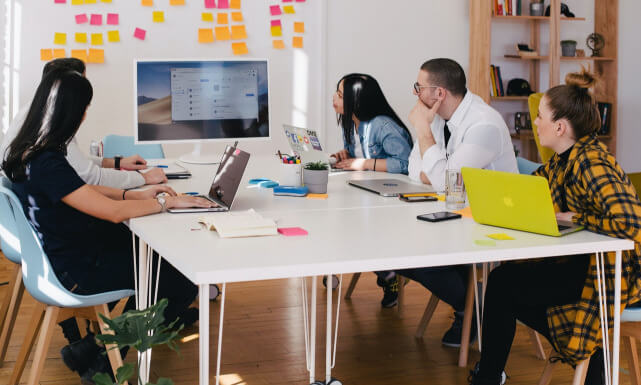 Subsequent meetings can be scheduled with everyone in the app suggesting a convenient date and time. It gets more convenient with the synchronization of Google and calendar so that everyone is alerted to when the next meeting is scheduled. They will also know the agenda of the upcoming meeting and have the ability to view the details of the previous meeting and see everything via their mobile phones using the app.
Board meeting voting leads to decisions, and doing this virtually keeps everyone engaged and active in the system. Polls are fast, their results are accurate and transparent, and they can be scheduled so members are aware on time. Best of all, an anonymous poll is also possible to arrange, using a convenient mobile app. And even if members fail to participate in the polls, they will still see the results on their dashboard with the mobile app.
Conclusion
The market is overflowing with board meeting software solutions, and you can start reaping benefits from them right now – it doesn't matter how large your enterprise is. Our reviews will help you to make an informed decision and choose the platform that is tailored to your budget and requirements.
You can also refer to the market guide to board portals, which provides valuable information on the market leaders and analyzes the four primary values of board management software.