With meeting software, you can ease the task of meeting organization for the entire team and unload your staff because it eliminates paperwork entirely. By going digital, you save boatloads of time and make sure that all required business documents will be available online from any device.
How can a meeting management solution be used to prepare for meetings?
Directors and administrators don't have to manage documents manually: all necessary files can be uploaded in a cloud and access by meeting participants in real-time. Most programs are compatible with various OS, including mobile devices like the iPhone and Android.
Thanks to meeting software, users can view and edit documents, leave annotations, and download them. The administrator may set up access rights and control the file-sharing process.
Your team can prepare the documents beforehand and collaborate within the platform. Most vendors include the messaging system and notes in their products, which enables efficient real-time communication in the software environment.
Inbuilt analytics instruments boost your team's performance: an application can generate reports and display valuable business statistics.
Thus, meeting software features a myriad of tools for efficient preparation for meetings. Now, instead of doing tiresome paperwork, directors and administrators can focus on what matters.
Vital features of meeting management software
All directors and administrators know that document management requires an enormous amount of work, especially when it comes to documenting handling. The entire staff can be involved in preparation for the meeting, and the director has to organize workflow smartly and make sure that all the processes go as intended. By organizing virtual meetings, they can offload the staff – an app will do work instead of people.
After reading numerous reviews and performing comparisons of the vendors, we have outlined the key software features that are present in the vast majority of solutions and are crucial for the proper organization. Let's see what the best solutions can offer you:
Simple agenda creation. With an agenda maker, you can easily create an agenda for a meeting and share it with everyone before convening. You can build your agenda from the ground up or make use of available ideal Agenda Maker templates to save time.
Safe and efficient document management. Users are free to upload, edit, and share business files. All updates are made in real-time, and the materials can be accessed from any device. That simplifies work: instead of personal meetings, you can share documents online and discuss them right in the frames of the platform.
Effective meeting management in the meeting center. With the meeting center feature of board management software, the scheduling of meetings is automated, and notifications are sent through the same system. You can keep tabs on those assigned tasks in the meeting with the use of a task manager. The software can also be connected to Zoom easily so there will be no need to create another link granting access to people who want to come into the meeting.
Role-based permissions. The administrators can set up access rights: some users are allowed viewing only, while others can edit documents. That eliminated the risk of unauthorized access and guarantees protection against third parties and hacking. Cloud-based platform infrastructure ensures redundancy and security.
Two-step authentication and encryption. These advanced security measures ensure an unbeatable level of file security. Now you can be sure that the information won't be accessed by hackers or other users.
Collaboration tools. Why meeting in person when you can handle documents in the digital environment? Advanced board meeting solutions feature the system of voting, annotations, and messaging. Now your team can make informed decisions much, much faster, no matter where the employees are located.
Integration with third-party platforms. In order to gather all necessary information in one place. You can integrate email agents, social media, messengers, and other platforms with the board meeting tools. This way, the entire preparation for meetings can be organized in a single environment.
Virtual polls organization. Virtual polls are as important as every other feature of a board meeting. With board management software, voting can be done online. Members who were previously required to travel can benefit from this system as well.
Stay organized and make effective board meetings
As has been mentioned, the meeting platform simplifies preparation for mission-critical events. This is a one-fits-all solution when you need to organize effective board meetings and save time. So, why mentioned features are crucial for the organization of meetings?
With a documents center, all the files needed by the board are centralized in one location. So it's easier for information to be fetched, edited or annotated, and distributed to whoever needs the documents without being stressed going through email attachments. Documents can be uploaded en masse and categorized in folders/sub-folders for ease of access.
Within the documents center, e-signature is also possible with signable documents created, and there's no need to demand the services of third parties who offer electronic signatures. Furthermore, files can be restricted from being viewed by everyone and access granted to only certain people. Lastly, documents can be reviewed with its mobile app by every board member.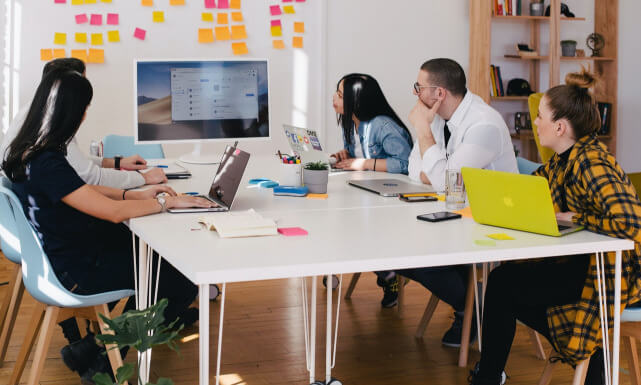 Agenda is the cornerstone of every board meeting, and a board management software lacking an agenda creator makes the whole idea pointless. It can be used for a test meeting and as a basis for taking minutes of the meeting with a minutes maker. Every member of a board meeting can view the agenda via their mobile devices as well, add their input or take notes in real-time. Also, individuals can be assigned tasks for the meeting — all virtually. Members who were not part of the meeting can still access everything using a mobile app.
Board meeting voting leads to decisions, and doing this virtually keeps everyone engaged and active in the system. Polls are fast, their results are accurate and transparent, and they can be scheduled so members are aware on time. Best of all, an anonymous poll is also possible to arrange, using a convenient mobile app. And even if members fail to participate in the polls, they will still see the results on their dashboard with the mobile app.
Subsequent meetings can be scheduled with everyone in the app suggesting a convenient date and time. It gets more convenient with the synchronization of Google and iCalender so that everyone is alerted to when the next meeting is scheduled. They will also know the agenda of the upcoming meeting and have the ability to view the details of the previous meeting and see everything via their mobile phones using the app.
Conclusion
Judging by reviews, meeting software reduces the preparation time by several times and eliminates the risk of mistakes. With a suitable meeting management solution, you put your company significantly above all competitors. Directors and administrators trust mission-critical tasks to the software and have time to focus on other important tasks.
The market is overflowing with board meeting solutions, and you can start reaping benefits from them right now – it doesn't matter how large your enterprise is. Our reviews will help you to make an informed decision and choose the platform that is tailored to your budget and requirements.