In today's business landscape, where 84% of companies recognize the importance of innovation for strategic growth but only 6% of CEOs are satisfied with innovation performance, board composition plays a crucial role.
Board composition refers to the structure and diversity of individuals serving on a board of directors or governing body, encompassing factors such as skills, expertise, background, and representation, aiming to ensure effective governance and decision-making within an organization.
Let's learn how the board structure impacts the corporate strategy and discover the board of directors composition best practices.
Discover effective management tool for your board
What is a composition board?
board of directors composition refers to the makeup and characteristics of individuals who serve on a board of directors or governing body of an organization.
The composition of board of directors has the following elements:
Size. Your organization should have enough directors to supervise the nominating and governance committee, audit committee, and other board subdivisions.
Experience and qualifications. Board directors should have sufficient expertise in investing, finances, management, and other areas to run the business professionally.
Diversity. Companies must have at least two diverse board members to meet the Securities and Exchange Commission requirements.
Board composition best practices
Check the board composition best practices based on years of corporate research:
1. Keeping boards small
According to Korn Ferry, Russel 3,000 companies have an average of 9 board directors, while S&P companies have 12. The board size averages between 10 and 11 members worldwide, including the UK, Italy, and Spain.
However, Joseph E. Griesedieck, Vice Chairman at Korn Ferry, says 12 board directors is too much for optimal board governance. Bigger board sizes mean more viewpoints and discrepancies in decision-making between inside and outside directors.
Instead, companies should reduce their boards to 7 or 10 members, according to Charles Elson, director of the University of Delaware's Corporate Governance Center.
It's easier for C-suite executives to communicate with fewer board directors. Most importantly, 7 or 10 people are enough to supervise board committees efficiently.
2. Refreshing boards regularly
Only 57% of board directors oversee shareholder communications, according to PWC's 2023 board effectiveness survey. Additionally, more than 89% of directors want to change at least one board member, while 41% insist on replacing at least two.
This survey indicates that evaluating board composition is crucial for tackling evolving challenges and supervising operations. Also, the Institutional Shareholder Services (ISS) considers the average board tenure of 9 years to be excessive.
So PWC recommends the following board refreshment practices for corporate boards:
Set a turnover action program and replace individual directors once in five years.
Set maximum board tenure limits at 9-12 years.
Conduct a regular board evaluation.
3. Emphasizing cybersecurity
According to Forbes, the global cybercrime cost will reach $8 trillion by the end of 2023 and $10.5 trillion by 2025. As of 2022, 83% of companies experienced one or more data breaches.
Meanwhile, board directors need relevant cybersecurity expertise, although 70% of boards have cybersecurity on their agenda. Only 14% of company board seats went to cybersecurity experts in 2022, a 3% decline from 2021.
If your board enumerates ten directors, it should have at least two or three members with solid board cybersecurity experience within the IT governance board.
4. Promoting age diversity
These days, board diversity provides measurable benefits to business performance. However, boards often overlook the age aspect of the diverse board. 
The average age of a board director is 63 years. However, PWC's recent study on board age diversity has found that younger board directors contribute to higher adaptation and profitability metrics in their organizations.
In today's changing world, age diversity brings a good balance of skills, experience, problem-solving, and innovation. It helps companies with diverse boards gain up to €51.8 billion advantage.
The study has also found that effective boards should have directors between 30-75 years old for maximum age diversity.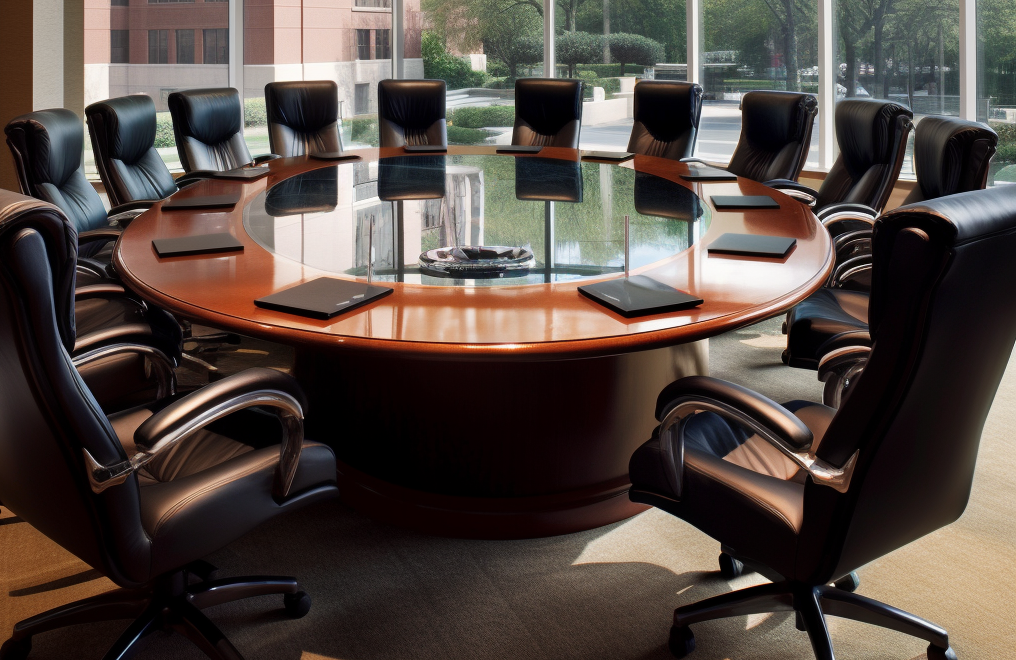 Board of directors composition requirements
Specific corporate governance laws regulate the composition of corporate and non-profit boards. Let us describe the US legal requirements for the board structure under the following categories:
As for age, specific skills, and experiences, no set-in-stone board of directors composition rules for corporate and nonprofit boards exist today. Each organization decides on these parameters individually.
Size
Size requirements for the board of directors composition are the following:
Corporate guidelines
Board size requirements
Delaware General Corporation Law
▪️ At least one member for a corporate board.
▪️ At least one board member per committee.
▪️ Board directors should not be stockholders.
Washington State
▪️ At least one member for a corporate board.
▪️ At least two members for the board of directors committee composition.
▪️ Board members should not be shareholders unless otherwise stated in the company bylaws.
Securities Exchange Act of 1934
▪️ Independent directors must comprise the majority of board members of public companies.
Sarbanes-Oxley Act (SOX)
▪️ A board must have an audit risk committee with all independent directors.
Diversity
Board diversity became more regulated with the SEC's approval of the NASDAQ Board Diversity Rule in 2021. According to NASDAQ, public boards should meet the following requirements:
Companies with five or fewer directors should have one diverse director.
Companies with boards of five members should have one female director and one LGBTQ+ director.
Smaller reporting companies should have two female directors or one female and one LGBTQ+ director.
Foreign issuers should have two female directors or one female and one underrepresented individual.
Optimal composition of board of directors
The ideal composition of for-profit board of directors has the following characteristics.
Board
composition
aspects
Best practices
Benefits
Board size
Between seven and ten members
▪️ Smooth company's governance
▪️ Easy decision-making
▪️ Sufficient board engagement
Age diversity
Between 30 and 75 years
▪️ Innovation opportunities
▪️ Broad business perspectives
▪️ Efficient challenge management
Skills and
expertise
Experience relevant to the
organization's goals, including
legal, financial, managerial,
and cybersecurity.
▪️ Informed decisions
▪️ Balanced board performance
▪️ Stakeholder confidence
Diverse
backgrounds
One or two diverse members,
including racial, cultural,
gender diversity, etc.
▪️ Unique perspectives
▪️ Good customer understanding
▪️ Regulatory compliance
For maximum business growth, apply the following board composition activities.
Ensure continual board refreshment
Most boards struggle with talent refreshment and succession planning. According to the National Association of Corporate Directors, talent competition is a primary concern for 77% of board members.
PWC suggests embracing a strategic approach to board refreshment, including the following activities:
Term limits. The company sets a clear tenure guideline and ensures the board consists of new, middle, and long-tenured directors.
Planned departures. The company plans board turnover several years ahead, considering individual director tenures.
Talent pipelines for board candidates. The board develops well-structured candidate profiles based on anticipated changes and skill gaps several years in the future.
Use a board skill matrix
According to Deloitte, many companies use board skill matrixes to assess board makeup, identify expertise gaps, and recruit new directors. A skill matrix is a set of board governance skills aligned with each board member.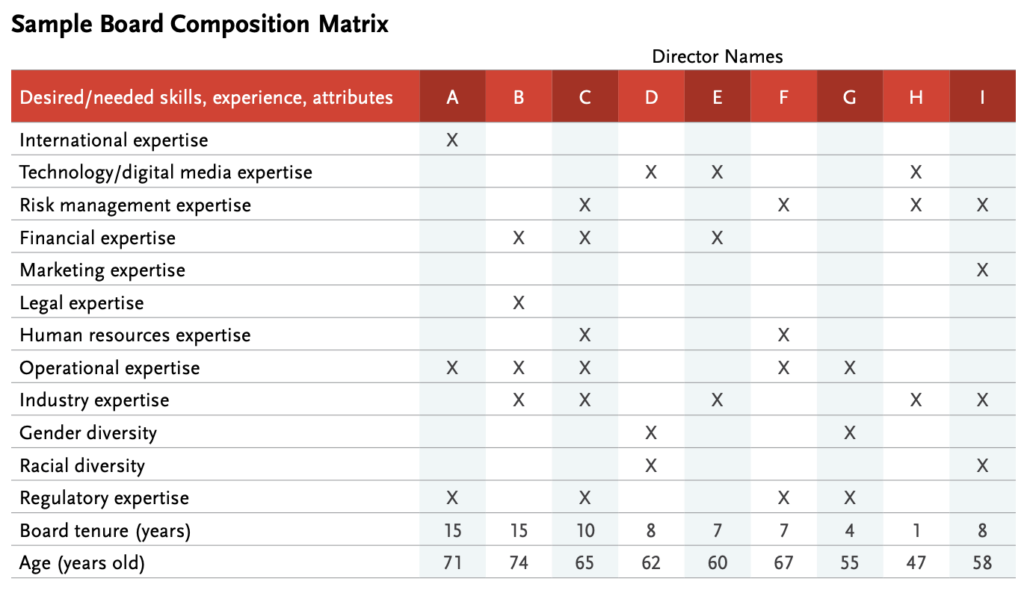 Deloitte also emphasizes that a skill matrix alone doesn't provide sufficient data on recruitment choice. A board should combine skill matrices with directors' CVs if it nominates new members.
Consider director independence
According to NASDAQ, an independent director is a person who:
Hasn't been a company employee for at least three years (relates to current or former CEOs).
Has no family members working for the company.
Has no relationship with the company that may compromise their objectiveness.
Independent directors pursue the best intentions for the company's shareholders, customers, and employees. These board members ensure higher shareholder confidence and business resilience.
Use board management software
Boards dedicate substantial effort to strategic matters, like auditor and stakeholder communications, accounting, subsidiary issues, or private equity relations. They often need more time for board's composition management.
Therefore, many companies use software for board of directors to address internal questions, like board structure, and external matters, like local county relations.
A board portal is a secure workspace with dedicated tools for board duties, like material information sharing, voting, recruitment, project planning, board meetings, etc. Board portals provide many benefits for board composition, including but not limited to the following:
Strategic board refreshment. Track multiple director tenures and plan departures using dedicated task workflows.
Data-driven skill assessment and accountability. Use activity and data access tracking tools to evaluate board effectiveness, identify skill gaps, and plan future board refreshment cycles.
Smart talent recruitment. Build skill matrices for new board members, and plan online board meetings in a highly secure environment.
Nonprofit board of directors composition
In America, businesses and nonprofit organizations have slightly different requirements for board makeup. In many states, including Minnesota and Texas, a nonprofit board should have at least three members, including one board chair and one secretary.
The Minnesota Council of Nonprofits suggests recruiting at least seven board members for optimal governance.
Typically, the non-profit board of directors structure consists of the chairman, secretary, treasurer, and a few more board officers. A nonprofit may also have a CEO as a voting member on its board.
The nonprofit board makeup also varies in size. For example, hospital board structure or board structure of civil organizations, like New York Liberties Union, may have over 30 board members.
The nonprofit board structure also varies in size. Some healthcare and, especially, civil organizations, like New York Liberties Union, have over 30 board members.
Nonprofits can consider all board structure recommendations that apply to corporate boards. They will also benefit from board portals.
The Board-rooom.org team recommends iDeals Board as an affordable, reliable solution with innovative security features and abundant board workflows.
Time to use the modern board management software!
iDeals Board serves board of directors, committee members with a comprehensive suite for governance tools
Visit Website
Key takeaways
Let's summarize the most essential points from the article:
Board composition is the set of characteristics of board directors, including their age, experiences, skills, and backgrounds.
Board structure best practices include revising director tenures, emphasizing cybersecurity, promoting age diversity, and keeping the board size small for optimal governance.
Boards are advised to use board management software to fulfill the board makeup approaches efficiently.
FAQ
Does the composition of a board of directors make a difference?
The composition of a board of directors directly impacts stakeholder confidence and corporate strategy and performance.
How does composition impact organizational performance?
An independent, experienced board makes informed decisions, prioritizes the organization's performance, and carefully plans accident management.
Professional directors' good governance contributes to higher business growth and better risk abatement. In contrast, the implications of a mismatched board may be devastating.
How can nonprofits ensure an effective board composition?
Strategic board refreshments, expertise focus, age diversity, and dedicated board management software help nonprofits achieve a positive effect on the board makeup.