The healthcare industry is subject to legislative changes, which makes governance especially challenging for hospital board of directors.
However, the healthcare board of directors serves as a single entity responsible for the fulfillment of strategic goals, the development of reputation, and the overall performance of the hospital.
Below we'll take a closer look at factors that help hospital boards operate more effectively. These include proper board composition, effective division of roles and responsibilities, and adoption of technology such as board management software.
Discover effective management tool for your board
What is a hospital board of directors?
The hospital board of directors, also known as the board of trustees, is the governing body of the hospital, overseeing the short- and long-term strategic goals, policies, and decisions of a healthcare facility.
Healthcare boards are often sourced from local public and private sector leaders, local business leaders, government leaders, as well as doctors and nurses.
What does a hospital board of directors do?
The key role of the hospital board of directors is to serve as the governing body of the organization. Thus, healthcare board of directors responsibilities include:
Defining strategic goals for the hospital
Hiring and overseeing the efficiency of a chief executive officer (CEO)
Ensuring the hospital is providing proper patient care
Monitoring the hospital's financial performance
Overseeing the healthcare industry news, trends, and best practices
Serving as a hospital's representative in the local community
The hospital board of trustees responsibilities also include hiring new board members and healthcare professionals — while ensuring all doctors and nurses have proper accreditation and continuing education.
Composition of hospital boards of directors
Though specific hospital board of directors roles vary from one board to another, the common roles in board leadership are built around effective oversight of the hospital. Let's see what they look like, specifically.
Learning from past board leadership structures
While for many decades, hospital board directors were independent in their decision making regarding board composition, patient care problems of this decade put them under enormous pressure:
The high-quality care leader, Virginia Mason Medical Center, reported 39 infections and 18 deaths because of a risky endoscopic procedure and other cases of preventable death. The facility has been blamed for the board's slow reaction and absence of timely reporting on the adverse effects of the procedure.

The non-profit organization, the Kids Company, which employed 650 doctors to offer psychotherapeutic treatment to troubled kids all over England, filed for insolvency despite receiving generous government support of $56 million over the years — and an emergency grant of $4.36 million just two weeks before. The hospital board has been accused of failing to exercise proper financial control.
Drawing a perfect current board composition structure
These hospital care failures made boards think more strategically about board composition and leadership structures. The main trends to observe in the nearest years are:
The percentage of independent board directors will increase. Though numerous studies prove that there's no connection between the board chair and CEO being in different positions and better financial performance, hospitals are separating the roles to avoid conflicts of interest.
The number of board directors will decrease. While the typical for-profit board consists of 14 to 17 board members, the Medical Care Act states the hospital board should involve 9 to 15 board directors. Smaller numbers of hospital board members help maintain a reasonable sense of control.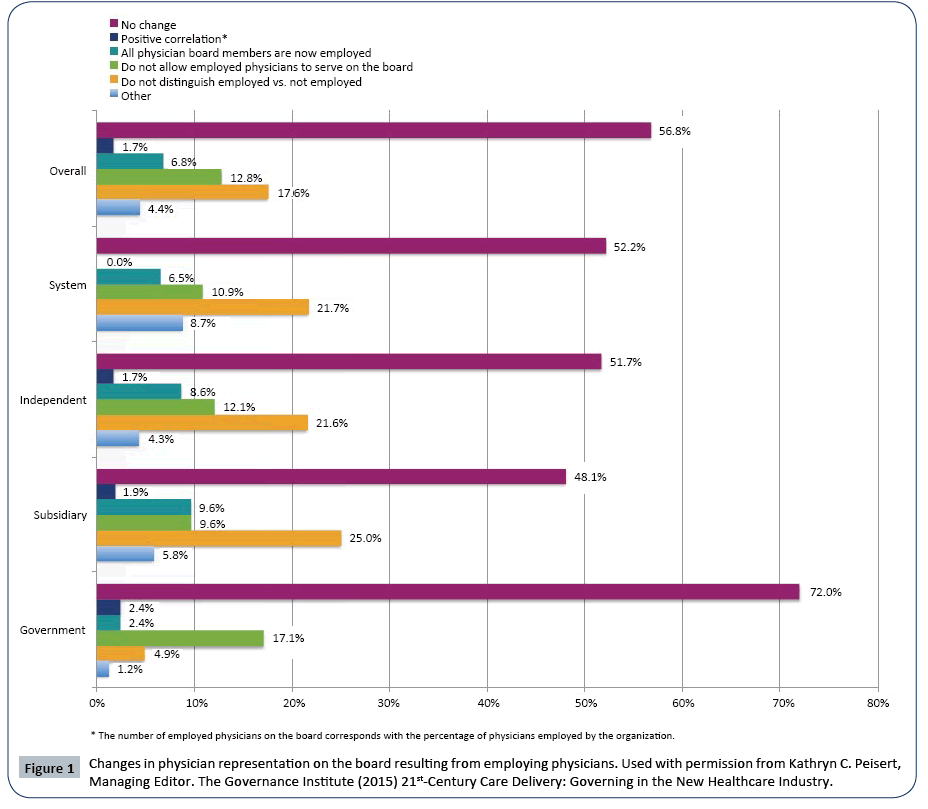 The percentage of healthcare providers on the hospital board will increase. While typically, around 80% of board directors are non-healthcare providers, with 14% of doctors and 6% of nurses, some board members claim they could benefit from having more clinical staff members on the board level.
Effective division of hospital board members' roles
The failures and developments of recent years led to improvements in board composition. As a result, all roles and responsibilities of hospital boards are divided between accountable board members.
Below is what board roles make up an effective hospital board:
President. The president acts as the leader of the healthcare facility and a board president (chairman), overseeing strategic plans, long- and short-term priorities, as well as paperless board meetings. They also act as a voice of the board for the hospital staff and as the hospital spokesperson for the local community.

Vice president. This board member takes on leadership in the absence of the CEO and can cover the full scope of activities of the board president. Apart from purely administrative responsibilities, vice presidents can make hiring decisions and monitor the effectiveness of board performance.

Board chair. The key responsibility of a hospital board chair is to assist other board members with appointing, choosing, and recruiting board directors. Additionally, the board chair should help with educating and orienting board members, arranging mentors, and developing a job description for every new hire. The hospital board chair also distributes agendas, prepares board packets prior to executive committee meetings, and sends out meeting resolutions. Learn how to write a corporate resolution and other board documentation in our dedicated article.

Treasurer. As the hospital board key financial advisor, the treasurer oversees and advises on the hospital's financial health and prepares clear accounting and financial records for board directors' approval. The hospital board treasurer plays a key role in managing communications between the CFO and the medical board of directors — while ensuring debt, cash flow, and bank accounts management.

General counsel. The general counsel usually manages an in-house team of attorneys and acts as a communication point between that team and the board. The general counsel also participates in every virtual board meeting and helps board members understand the potential legal implications of their decision making.
Struggle to simplify the board governance?
Adopt technology for automated board management
How to improve the composition of hospital board directors?
To improve hospital board composition, hiring healthcare practitioners is needed. However, thoughts on including hospital staff in boards greatly differ.
Some experts believe that healthcare professionals do not have the necessary management skill set to work successfully on boards.
Additionally, healthcare providers have to deal with a great conflict of interest, which can have a negative impact on their objectivity. They struggle to navigate between board membership, patient safety, community trust, and their own interests, which puts their board work under enormous pressure.

As such, hospital boards should know how to address the conflict of interest and management risks associated with hiring clinical staff. Once that is done, hospital board members will see a major increase in healthcare expertise and improved composition of boards.
Does your hospital board need board management software?
While boards face some management challenges that put board performance at risk, there are certain steps to take to overcome them.
Adopting boardroom technology solutions, such as board of directors portals, can significantly streamline, automate, and safeguard all stages before, during, and after board meetings. Such a solution can be used in any organization — there are board portals for credit unions, nonprofit organizations, and, of course, hospital boards.
At Board-room.org, we are committed to equipping leaders with the knowledge and tools needed for better governance. We review some of the best board management software solutions and help you make your own opinion.
Below is a selection of tools to streamline your hospital board governance.
Founded in 2008, iDeals board directors software is a platform that has been helping hospital board directors for over 15+ years now.
The board portal offers a free trial and has a subscription-based pricing model. iDeals is available across all major operating systems, can be accessed from a convenient mobile app, and works seamlessly in the cloud.
iDeals Boards facilitate all stages of hospital board collaboration, allowing them to set agendas, manage invitations, conduct meetings, cast votes, set tasks, add reminders, and create minutes — all in one place.
Founded in 2003, OnBoard board management software has been serving board directors across all major industries for almost 20 years now.
The solution offers an elegant platform for hospital board communication and collaboration, providing tools for Zoom integration, secure messaging, task management, voting and approval, minutes builder, e-signatures, and more. It is available on all major platforms and devices.
The Aprio board portal has been helping board members since 2003. This software solution streamlines all stages of board meetings — from preparation to engagement, board member collaboration, reporting, and security.
Aprio offers an industry-leading user interface, rich feature set, and a great value for money. Additionally, Aprio offers all-around support and endpoint security.
iDeals is a confident leader among the best board meeting solutions. It has the highest rates of customer satisfaction in the healthcare industry and continues to be our experts' top choice.
Time to use the modern board management software!
iDeals Board serves board of directors, committee members with a comprehensive suite for governance tools
Visit Website
FAQ
Do hospital boards matter for better, safer patient care?
These boards take direct responsibility for the reputation of healthcare facilities. They are committed to improving the quality of services of a healthcare organization, and thus, their participation positively impacts patient safety and care.
Who makes up the boards of directors in a hospital?
The typical hospital board is a board member group that includes from 9 to 15 professionals. The hospital board of trustees includes the president, the vice president, the board chair, the treasurer, and the general counsel.
How do hospital boards work?
Such boards work as a single entity, responsible for strategic planning, good financial health, and the effectiveness of the healthcare facility.
Which entity in hospital governance is legally responsible for the hospital's operation?
The general counsel is a hospital board member who takes on full responsibility for the legal implications of all decisions of the board. The main role of the general counsel is to make all legal consequences of decision making clear to other board members.