The demands on credit union board management have never been greater. Today, boards have significant fiduciary responsibilities, need to govern substantial financial institutions, and manage capital risk.
The article below aims to show board members how to modernize governance, facilitate board meetings, and improve collaboration with the help of board portal software for credit unions and banks.
Discover effective management tool for your board
Credit union board management
Before learning how board meeting software helps credit unions, let's focus on what role a board member and a committee play in credit union governance.
What is a credit union?
A credit union is a nonprofit financial organization owned by individuals who use its financial products. Credit union customers can access similar services as offered by a traditional bank, including credit cards, savings accounts, and loans. However, there are certain differences.
| | Bank | Credit Union |
| --- | --- | --- |
| Structure | Profit | Non-profit |
| Membership required | No | Yes |
| Products and services | A wide range | Limited |
Responsibilities of credit union board members
Board member responsibilities naturally differ depending on the type of board. For example, the hospital board of directors' responsibilities will differ from those of credit union board members. In credit union boards, members elect board directors to manage the credit union to represent their best interests. More specifically, board members have to:
Provide general direction and control of a credit union
Manage the affairs of the credit union fairly and impartially
Understand finance and accounting practices
Manage the board operations in accordance with the Federal Credit Union Act and similar laws and regulations
Importance of risk management for credit unions
Credit unions face a variety of internal and external risks.
| External risks | Internal risks |
| --- | --- |
| Natural disasters | Internal fraud |
| Exchange rates | Regulatory non-compliance |
| Cybercrime | Data breaches |
| Interest rates | Legal risks |
| Loss of funds due to theft | |
According to a Black Kite study, cybersecurity vulnerabilities rank among the most problematic issues for credit unions as they're fraught with financial losses.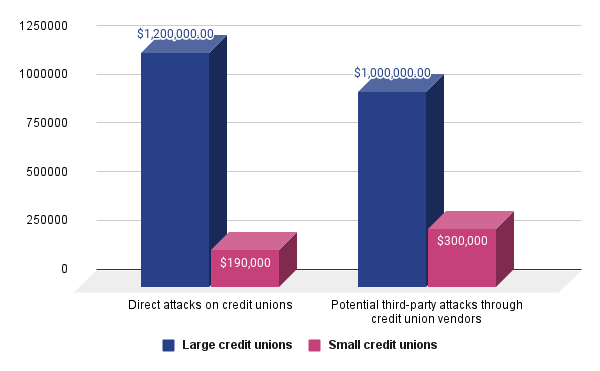 The statistics below reveal the reasons why most credit unions are at high risk of data breach or systems hack:
66% of credit unions and 88% of their vendors lack email security
48% of credit unions and 58% of their vendors have critical vulnerabilities due to out-of-date systems
However, it's possible to mitigate risks. Here's how:
Define key risk indicators (KRIs). KRIs predict potential risks that can negatively impact businesses. Conducting regular reviews of KRIs and indicating warning signs can significantly reduce potential risks.
Have a disaster recovery plan (DRP) in place. DRP is a document describing how an organization can quickly resume work in the event of a crisis or disaster.
Keep up with regulatory changes. Credit union regulatory compliance is continually changing. For example, in 2021, it shifted towards increased enforcement and stricter examinations. That's why it's essential that credit unions update policies and procedures to reflect new requirements.
Implement board portal technology. Board management software helps credit unions prevent cyberattacks and mitigate risks due to numerous access, document, and infrastructure security features.
5 reasons to use board management software for credit unions
"Credit unions are entrusted with the livelihoods of their members. With great trust comes great responsibility to mitigate cybersecurity vulnerabilities, whether they are internal or via a third party."

Bob Maley, Chief Security Officer, Black Kite
Board management software is an easy-to-use tool that helps credit unions mitigate cybersecurity risks. It also allows board administrators to perform their duties faster, better, and easier.
Let's have a look at other reasons why credit unions are using board portal software.
Real-time secure collaboration
Thanks to board portals, board members can:
Upload, store, and distribute confidential information conveniently and securely
Communicate in chats
Have discussions in threads
Higher productivity
Board portal software for credit union allows users to:
Leave comments
Assign tasks
Receive news and updates
Straightforward access
Board portals function 24/7, which lets board members:
Access and share board materials securely from any device
Take advantage of board portal mobile apps — prepare for the next board meeting, send reminders, receive approvals, etc.
Conduct a virtual board meeting from anywhere
Professional customer support
Board portal providers offer professional client support that is:
24/7
Multilingual
Multichannel
Eco-friendliness
Board portal users reduce their environmental footprint because they can:
Conduct a paperless board meeting and save resources spent on printing paper documents
Save on travel expenses by working remotely
If you want to take advantage of all those benefits and make board management simplified and more efficient, try a board portal.
Top board portal software for credit unions
Below is a selection of tools to streamline your board for credit unions:
1. iDeals Board
This is our experts' TOP pick as it's cost-effective, user-friendly, secure, and has all the necessary features to improve efficiency and streamline board operations.
Pricing model: Subscription
Starting from: Not provided by the vendor
Free trial: Available
2. OnBoard
Pricing model: Subscription
Starting from: $199
Free trial: Available
3. Aprio
Pricing model: Subscription/ Per user
Starting from: Not provided by the vendor
Free trial: Available
4. Govenda
Pricing model: Flat rate/ Subscription
Starting from: Not provided by the vendor
Free trial: Available
5. BoardPaq
Pricing model: Subscription/ Per user
Starting from: $39/month
Free trial: Available

Bottom line
Board portals provide great opportunities to streamline credit union processes. Here are the main tools that online board portal providers offer to organizations:
Group of features
Features
Security features
Multi-factor authentication to confirm users by requiring an email address, password, and a verification code sent to a secondary device
Role-based permissions to control which users can access board materials
Multi-level encryption to protect data against cyberattacks
Meeting management features
Scheduling to pick the date and time and assign participants
Agenda builder to choose a template, attach files, and share them to board members
Minutes drafts to generate meeting minutes quickly and share them with the meeting participants
Calendar and reminders to notify board members of scheduled meetings
Collaboration features
Voting to add a question and voting alternatives, share them with the board, and get answers in minutes
E-signature to electronically sign documents securely
Task assignment to create a task, set a deadline, assign a specialist, and monitor progress
Announcements to update board members on the latest news
Document management features
Library to securely store and distribute board materials
Comments to ask and answer questions from within a document
Search function to find files quickly and track older document versions
Communication features
Private or group chats to communicate securely with board members in real-time
Video integration to conduct video meetings through Zoom and Skype integration
Reporting features
User-activity tracking to track what users do in the board portal
Audit trails to receive engagement analytics
If you're looking for board portal software for your credit union, the iDeals board portal is a great option.
FAQ
What is credit union board management software?
A board portal helps credit union board management by providing board members with a number of tools for secure collaboration, meeting management, and document sharing. It allows boards to improve efficiency and make quicker decisions.
What are the benefits of using board portal software for credit union?
Among the major advantages of board portals for credit unions are robust security, optimized meeting management, simplified communication, 24/7 accessibility, professional client support, ease of use, and eco-friendliness.